Top Military Speakers
Military speakers are among the most inspirational speakers in the world.
Why? Military speakers are able to share experiences, knowledge, learnings and insights based on their personal and professional experiences that have taken them to some of the most unforgiving places in the world.
Military speakers are able to engage audiences and delve into a wider range of topics including leadership, inspiration, empowerment, motivation, resilience, adversity, strategy, discipline, goal setting and many more areas.
Besides the physical strength required to excel in a military role, unwavering mental strength is a prerequisite. Military professionals all over the world rely on their mental strengths to overcome the various challenges they face on a daily basis. Although many of these challenges may appear insurmountable, military personnel are frequently forced to overcome adversity regardless of the odds.
---
Major Chris Hunter is a British Army veteran. He spent the majority of his 17-year career serving as a high-threat bomb disposal operator. Chris was awarded the Queens Gallantry Medal for his bomb disposal work in Iraq. He has written two Sunday Times Bestsellers and is a regular contributor to television, radio news and current affairs programmes.
Skills include – Leadership | Crisis Management | Performing Under Pressure | Bravery | Courage | Strength | Conditioning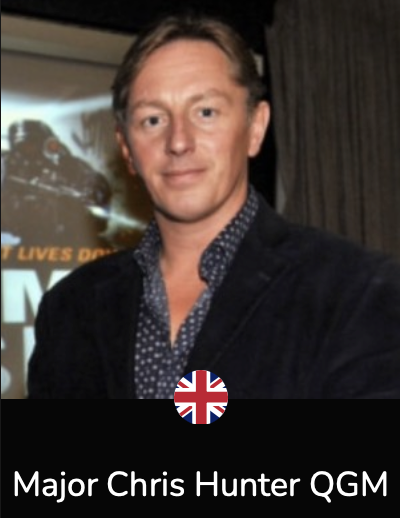 Kim Hughes GC – Became only the 74th living recipient of the George Cross for his extraordinary acts as a Bomb Disposal Expert. With his fearless approach to one of the most dangerous jobs in the world, Kim disarmed 120 Improvised Explosive Devices (IED) during his 1st tour of Afghanistan and is the most highly decorated Bomb Disposal Operator to have survived the Afghan conflict. Kim was awarded the George Cross by Her Majesty the Queen and in his citation read to an audience in Buckingham Palace it said: "Dealing with any form of IED is dangerous. To deal with seven Victim Operated IEDs linked in a single circuit, in a mass casualty scenario, using manual neutralization techniques once, never mind three times, is the single most outstanding act of explosive ordnance disposal ever recorded in Afghanistan." Kim is a Sunday Times and International bestselling author with his critically acclaimed memoir, Painting the Sand, and Fiction series.
Skills include – Military Operations | Risk Assessment | Performing Under Pressure | Operational Planning | Risk Management | Public Speaking | TV & Media | Inspiration | Firearms Adviser
Chris Paton was a Lieutenant Colonel in the Royal Marines and is now a keynote speaker who works with CEOs and Senior Management in organisations, helping them to become more productive and valuable environments. He has a decade of experience leading complex transformation and culture change at a corporate level, through 'learn and solve' methodologies. Previously, Chris was a strategic adviser to the French Ministry of Defence and was the first non-French student to rank in the top 5% of the French Military Strategic Promotion Course. He was later promoted to a role in the Ministry of Defence and during this time was responsible for the extraction of all UK combat forces from Afghanistan. Chris provided key guidance and advice to the Defence Board and National Security Council which included dialogue with 10 Downing Street.
Skills include – Risk Management | Conference Speaker | Increasing Profitability | Business Turnarounds | Government Consultancy | Strategic Business Growth | Cross-Cultures & Industries | Large Scale Transformation | Leadership & Team Building | Strategic Planning | Strategic Partnerships
Colin MacLachlan was a Sergeant Major in the 1st Battalion of The Royal Scots and a Special Forces Commander in the 22 SAS regiment. Colin was involved in some of the most high-profile SAS missions during his career including covert surveillance operations, close combat fighting and hostage rescue. Colin was involved in hostage negotiation, rescue and himself as a hostage. Colin has experience in many different pressure-intensified situations and now shares his experiences and expertise across many different areas including leadership, inspiration, empowerment, resilience, decision-making under pressure and more. Colin is more recently best known for appearing in Channel 4's SAS: Who Dares Wins and Channel 5's Secrets of the SAS.
Skills include – Leadership | Performing Under Pressure | Decision Making | Covert surveillance | Close Combat Fighting | Hostage Rescue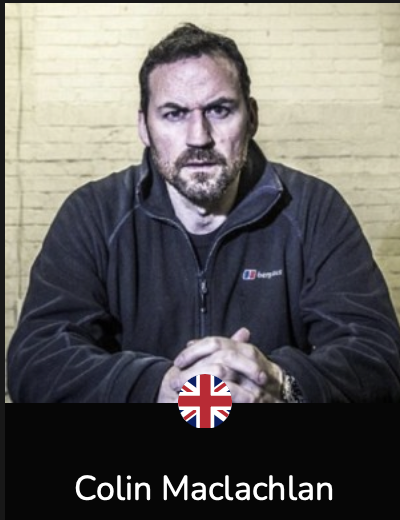 Mandy Hickson was a Fighter Pilot and is now a world-renowned Keynote Speaker and Best-Selling Author. Mandy was the only female pilot on her Front-Line Tornado Squadron, flying multimillion-pound fast jets for the Royal Air Force. She has operated in hostile environments, including patrolling the 'No Fly' zone over Iraq. Drawing on her experience of calculated risk-taking, decision-making under pressure and the critical role of the human in the system, she transfers vivid lessons from the cockpit to other management and leadership contexts. Mandy is a highly demanded keynote speaker and has been invited to share her insights with some of the most successful organisations across the world where she describes the Strategies, Tactics & Behaviours that she adopted when the stakes were at their highest. Author of the best-selling book 'An Officer, not a Gentleman' an inspirational journey of a pioneering female fighter pilot.
Skills include – Leadership | Performing Under Pressure | Inspiration | Empowerment | Resilience | Motivation | Diversity and Inclusion | Dealing with Adversity
Lee Goddard CSC is a Rear Admiral of the Royal Australian Navy who after 34 years of full-time service transferred to active reserve in 2021. Lee is an Executive Leader who has experienced many careers within a career and has proven achievement in complex leadership, command, industry and management roles, across the commercial and philanthropy sectors, Defence, and a range of Australian Government agencies. Lee is a mission-focused leader who has consistently developed high-performing teams that deliver and make an impact. These results are always achieved with and through the people that he leads. On promotion to Commodore in late 2014, Lee was made Commander Surface Force, commanding 18 major warships and over 3000 personnel.
Skills include – Leadership | Senior Executive Management | Advisory | Building Team | Philanthropy | Complex problem Solving | Change Management | Academia | Strategy | Maritime Affairs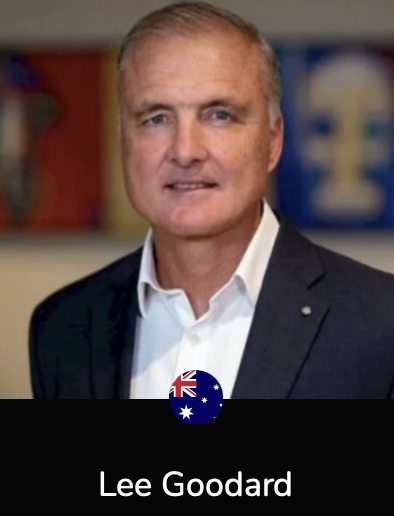 Floyd Woodrow MBE is a British Military Leader, Senior Business Executive, Consultant and Negotiator. Floyd was one of the youngest soldiers to have been selected for the elite SAS. Floyd Woodrow is now a renowned speaker on leadership and performance coaching worldwide. Floyd is challenging, supportive and committed to developing elite teams and individuals as well as offering practical and commercial value in strategic planning and execution. Floyd has established an international reputation for designing and running leadership and elite performance training in Sports, Business, Government, Police, Not for profit organisations and Schools.
Skills include – Elite Engagement | Leadership | Inspiration | Empowerment | Leading Teams | Non Profit Businesses | Author | Speaker | Media
Joff Sharpe is a British Businessman, Founder, Author, eco-adventurer and Former SAS Officer of the British Army. Since leaving the military, Joff has been involved in a dozen international businesses, variously as Chairman, CEO, COO and CHRO with a focus on intrapreneurship, organisation effectiveness & leadership development. He also Chairs the charity Thinking Huts, to whom (these) speaker fees are donated as well as LA-based Inventure, a green energy recruitment provider. His life experiences span living amongst the Iban people of Borneo through to being Piers Morgan's HR Director! Such adventures inform his SAS-themed business book Who Dares Wins in Business (2014, 2021) as well as his writing for Newsweek, Huffington Post, South China Morning Post and other publications, the substance of which he has applied to several of his own start-ups including flex workspace provider Storey Spaces Ltd.
Skills include – Leadership | Culture | Talent | Operational Performance | Motivation | Resilience | Dealing with Adversity | Overcoming Challenges | Author | Public Speaking
Michelle MACE Curran is an inspirational female F16 Fighter Pilot who flew in the US Air Force Thunderbirds. Michelle grew up in a small town in Wisconsin and transformed herself from a shy person to a Lead Solo for the US Air Force Thunderbirds. Mace has a passion for pushing limits and inspiring others with her energy and experiences from her career. Mace was commissioned to the US Air Force and spent 13 years as an F-16 Fighter Pilot. From 2019 to 2021, Mace was a Solo Pilot for the Air Force Elite Squadron – The Thunderbirds. She is the second woman ever to fly in the Lead Solo position since the team began in 1953. Since leaving the US Air Force, Mace founded Upside Down Dreams which inspires people to pursue dreams outside of their comfort zones. Mace delivers keynotes to organisations with lessons of grit, perseverance, determination and teamwork. She empowers individuals to shift their mindset to see their true potential.
Skills include – Inspiring others | Helping you turn off that voice of self-doubt | Making you realise the power to success lies within you | Showing you how to shift your mindset to shift your trajectory | Leading you to discover a new way to view failure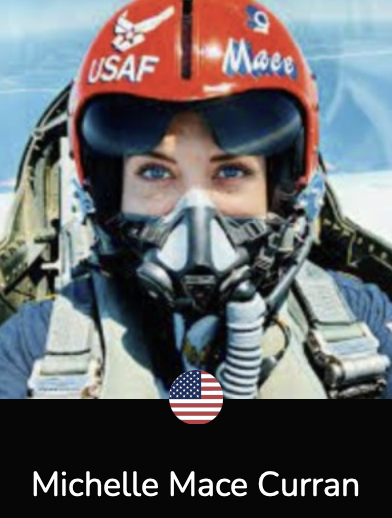 Andy Reid is a former British Army solider who served for 15 years in the Army and is now an acclaimed inspirational speaker. In 2009, Andy has his life changed forever whilst on patrol in Helmand Province, Afghanistan. Having stepped on an explosive device planted by the Taliban he was injured so badly it was miraculous that he survived. The IED plate which Andy stepped on whilst serving for the 3rd Battalion The Yorkshire Regiment resulted in him losing his right arm and both of his legs. His recovery had people in awe as he only spent 2 weeks in hospital before returning. Through his incredible attitude, inner fortitude and will to overcome such adversity, Andy has not stopped being positive. This has seen him sky dive, take part in a 10k run and be awarded with The Sun Newspaper Millie Award for Overcoming Adversity. He has been awarded with an MBE, an ambassador for the ABF Solider Charity and has launched an autobiography called Standing Tall.
Skills include – Leadership | Inspiration | Motivation | Resilience | Overcoming Adversity | Management | Crisis Management | Public Speaking
Alex Duncan is a decorated Royal Air Force (RAF) pilot, having flown in some of the most challenging and dangerous missions in Afghanistan whilst piloting his Chinook. In the early part of his career, Alex worked for Concorde for 2 years before joining the RAF in 2000. Alex has flown the Chinook for nearly 3,000 hours and has been sent to Afghanistan and has achieved more than 1,000 hours in combat missions which include assaults directly into enemy territory, supporting both conventional forces and Special Forces. In 2008, Alex was ambushed by the Taliban with a deliberate assassination attempt on the Governor of Helmand province. Although his aircraft badly damaged, Alex saved all 16 civilian passengers on board and six days later he was back in the cockpit and taking paratroopers into battle with the enemy. Alex was awarded the Distinguished Flying Cross by Her Majesty the Queen for his heroic efforts.
Skills include – Military Operation | Teamwork | Resilience | Dealing with Adversity | Leadership | Performing Under Pressure | Public Speaking | Project Management and Planning | Motivation
Manley Hopkinson is a world renowned Keynote Speaker, Explorer, Author, Former Naval Officer in the Royal Navy and is a leading voice for compassionate leadership. Manley draws on his experience after serving in the Royal Navy which included two tours in the Gulf War. Manley has also been an inspector for the Hong Kong Marine Police. In 2000, Manley was chosen to skipper a yacht in the BT Global Challenge World Yacht Race, where he managed a group of novice volunteers for nine months covering 32,000 miles. As an Adventurer and Explorer, Manley set a world record time by winning the inaugural race to the Magnetic North Pole, overcoming polar bear attacks, sub zero temperatures, all whilst learning life changing lessons in survival and competing in extreme environments.
Skills include – Leadership Development | Culture Change | Change Management | Mentoring | Team Building | Emotional Intelligence | Motivation | Performing Under Pressure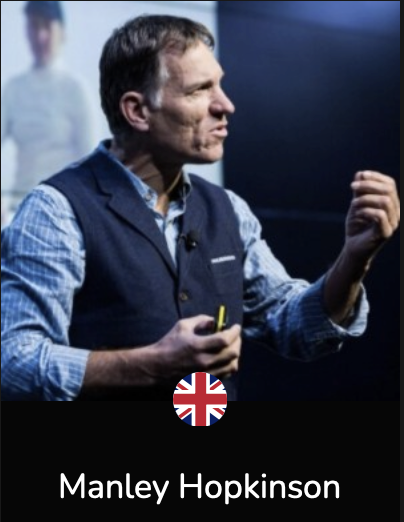 Steve Heaney MC is an elite military expert who specialises in leadership, strategy, escalation situations, decision-making, team management and assignments. Steve was the Platoon Sergeant of X PLATOON (Pathfinders), where in 2000, 26 soldiers were dropped into a village in Sierra Leone. It turned into a 16-day siege against 2000 rebel attackers.
Skills include – Leadership |Performing Under Pressure | Resilience | Crisis Management | Determination | Bravery | Courage
Shannon Huffman Polson is an author, and business leader, and was one of the first women to fly the Apache attack helicopter in a deployable line position in the U.S. Army. She was assigned to Fort Bragg as the only woman among 120 pilots in the regiment. Shannon commanded three-line units on three continents. Shannon helps companies and organisations develop and deploy purpose-driven leadership for engaged and resilient employees and world-class results through ten years of experience as a top-rated keynote speaker and executive educator/executive coach. Shannon is the Author of the acclaimed The Grit Factor, CEO of The Grit Institute and Host of The Grit Factor podcast.
Skills include – Leadership | Igniting Business Leaders | Culture Building | Innovation | Resilience | Engagement | Communication | Executive Coaching | Writing | Motivational Speaking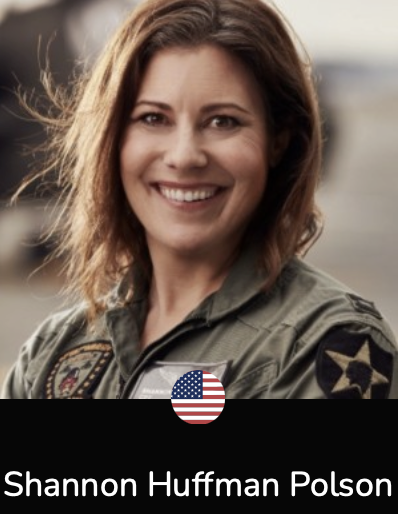 Scott Heffield is a former British Royal Marine Commando and Police Officer now working on TV adventure shows as a specialist expert to guide, scout, perform stunts and oversee risk and safety. Scott has been teaching, training and guiding personnel for almost 30 years in a diverse range of specialist fields. Having served as a Commando in the Royal Marines, Scott is now a Physical Training Instructor, overseeing the Royal Marine Commando recruits, trained Commandos and members of the Special Forces. After becoming an Operational Police Officer, Scott put his wealth of knowledge and love of guiding, planning, logistics and leading adventurous expeditions in extreme environments and started his own business. Scott puts his experience into good practice as a TV location guide, scout, stunt/activity coordinator, high ropes technician and TV crew safety supervisor on adventure shows such as the groundbreaking, first-ever interactive Netflix series – You Vs Wild with Bear Grylls.
Skills include – Risk Management | TV and Media | Physical Training | Resilience | Team Management | Leadership | Public Speaking | Personal Development | Planning and Preparation