Top 10 Sustainability & Conservation Speakers
Why is Conservation and Sustainability important to society?
Preserving the environment, and maintaining species and wildlife are critical to future human existence. Nature is both extraordinarily beautiful and fragile, and it is vital that we understand and take action to protect the animals with whom we share the planet. Conservations, Sustainability experts and environmental speakers help with the global preservation of natural habitats and wildlife. They also ensure sustainable solutions are implemented that help avoid the unnecessary depletion of Earth's natural resources.
Speakers on conservation and sustainability offer perspectives on how to conserve, protect, and restore natural resources.
---
Niall McCann is a passionate conservationist focusing on anti-poaching and the illegal wildlife trade in Africa and Latin America. Niall has won awards as a Wildlife TV Presenter on the BBC, PBS, National Geographic Wild and Animal Planet. Niall has an incredible story of resilience, overcoming many life-challenging situations.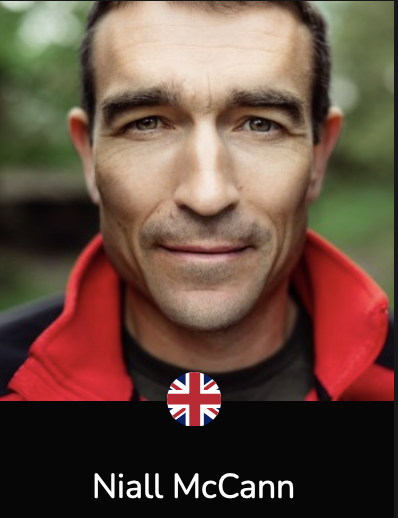 Lesley Rochat, also known Shark Warrior because of her passionate efforts in shark conservation, is an accomplished speaker and multi-award-winning conservationist and ocean explorer. She is the founder and CEO of a non-profit organisation focused on ocean conservation, and a successful social entrepreneur. Her accolades include being inducted into the Women Divers Hall of Fame and being a Fellow Member of the prestigious Explorers Club of the USA.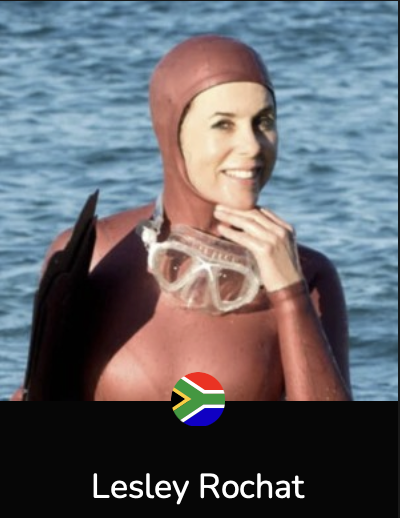 Chaz Powell is a British Explorer, Expedition Leader and Survival Guide Expert who has undertaken long-range human expeditions for over 20 years. Chaz has an ongoing project called – The Wildest Journey – which is all about remote explorations he has undertaken by foot along the wildest rivers in Africa. The main focus and objective of his journeys are to raise funds and awareness for wildlife conservation and anti-poaching. During 2016 and 2017 Chaz spent 137 days walking over 3000km from source to sea along the Zambezi River. In 2019, Chaz spent 47 days walking 1120km from source to sea along the Gambia River and 29 days walking 800km from east to west across Madagascar whilst walking source to sea along the longest river in the country called The Mangoky.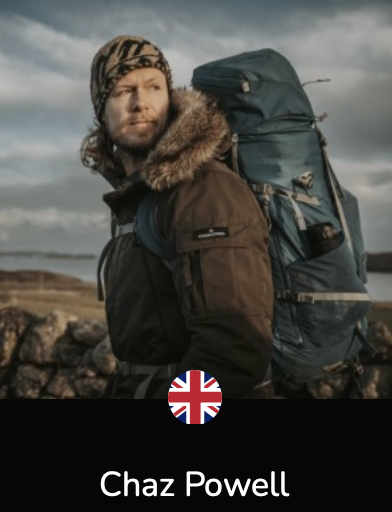 Amy Steel is a former Professional Netballer who is now a Chartered Accountant and Leader working on Climate Risk and Decarbonisation. Amy has provided advisory services in a broad range of sustainability areas, specialising in climate change over the last six years. The types of projects have ranged from assessing the physical risks resulting from global warming under different emission scenarios, through to establishing decarbonisation targets and trajectories, and evaluating the technology types required to meet these. Prior to her current career, Amy played netball for the Queensland Firebirds, Melbourne Vixens and Adelaide Thunderbirds.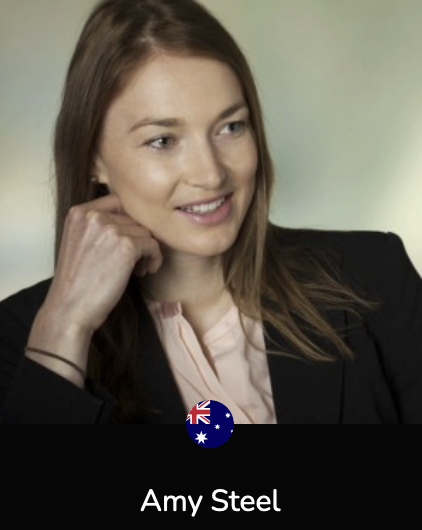 Oli France is a British Expedition Leader, Keynote Speaker, Founder of Wild Edge and Host of The Wild Edge Podcast, and Specialist in exploring remote and hostile regions in the world. After gaining a degree in Outdoor Leadership (BA) and the British Mountain Leader summer and winter awards, Oli has spent the last decade embarking on intrepid adventures across the world. In winter 2016, Oli travelled overland by any means, alone, from Hong Kong to Istanbul along the 8000-mile mountainous spine of Asia, crossing eleven countries and climbing fourteen mountains in mid-winter, in a journey documented in his first book: The Trail of the Mountain Folk. Oli has led teams through some of the world's most dangerous and least visited countries, including Iraq, Somalia, Yemen, Turkmenistan and D.R. Congo. Oli's adventures have taken him through deserts, jungles, mountains, and war-torn regions.
Charlie Walker is an Explorer, Writer, and Public Speaker from the United Kingdom. Charlie specialises in long-distance, human-powered expeditions to develop an intimate understanding of the most remote communities in the world. Over his 12-year career, this focus has taken him to places as varied as the Tibetan plateau, the Mongolian steppe, the Congolese jungle, the Arctic tundra, the highlands of New Guinea and numerous deserts in between. He has travelled over 50,000 miles by bicycle, foot, horse, raft, ski and dugout canoe. He is a Fellow of the Royal Geographical Society, a 2021 Scientific Exploration Society Explorer Award winner, and a three-time recipient of the Transglobe Expedition Trusts Mad but Marvellous grant.
His work has been featured on the BBC World Service, BBC Radio 4, The Sunday Times, The Daily Telegraph and Geographical mag. He has also written two books; Through Sand & Snow, and On Roads That Echo.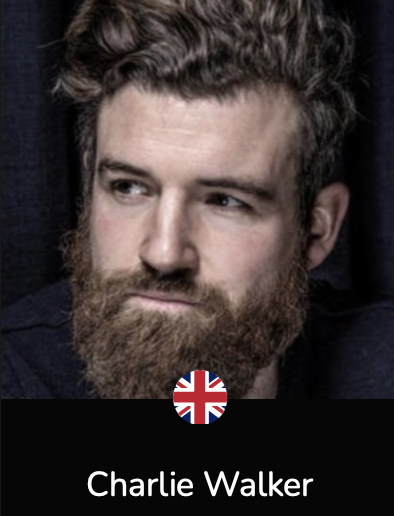 Sal Montgomery is an internationally renowned Whitewater Kayaker and Expedition Leader who appears in leading roles on various UK TV and BBC Documentary Series. Sal is known for her part in the documentary series called Expedition with Steve Backshall. Sal delivers inspirational and motivational talks for the Royal Scottish Geographical Society.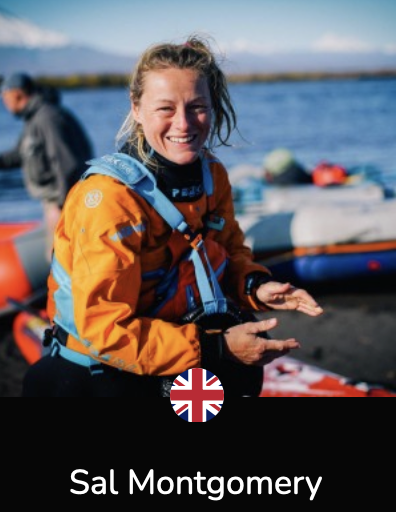 James Glancy is a Filmmaker, Conservationist and Former Royal Marine Commando from England. James was an Officer in the elite British Royal Marines. He was deployed on multiple tours around the world, including three combat tours of Afghanistan. In 2012, he was awarded the Conspicuous Gallantry Cross (CGC). Since leaving the armed forces, James has returned to his childhood passion for wildlife and shark diving. He is now a director of a conservation charity, Veterans 4 Wildlife, where he focuses on the preservation of African wildlife and combating the global trade in shark fins. James is a Fellow of the Royal Geographical Society. James has been recognised for his cinematography and is a Sony Professional Ambassador and Scubapro Deep Elite Ambassador.
James is currently Directing his first feature documentary called Afghanistan, which deals with the conflict in the country. The film is in post-production and is set for a theatrical release in 2022.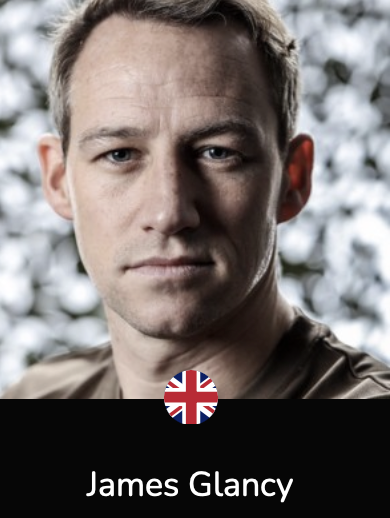 Louis Rudd MBE is a record-breaking polar adventurer, expedition leader, former Royal Marine Commando and SAS soldier with 35 years of service. Louis is the first and only person to have traversed Antarctica twice using human power alone. Firstly, in 2016-17 leading a team of six soldiers on a 67-day 1,100-mile route and for a second time, solo with no resupply in 2018-19, becoming the first British person (and second ever) in the world to complete the crossing of the Antarctic continental land mass. This crossing was a 56-day, 920-mile solo journey. Louis is also a member of the exclusive Explorers Club, a Fellow at the Royal Geographical Society, a Published Author and an accomplished Public Speaker.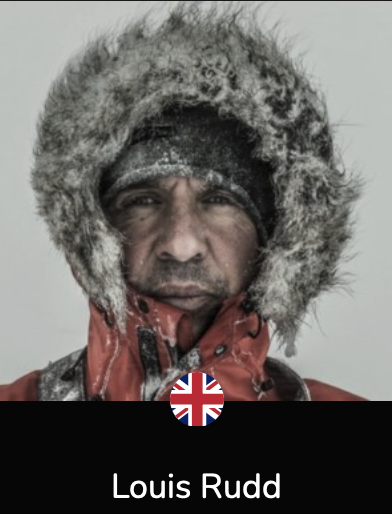 Mark Pattison is a former NFL football player, mountaineer & exec for Sports Illustrated. In 2021, Mark completed the 7 Summits with his ascent of Mt EVEREST. In 2022, Mark won an Emmy for best documentary. Mark played Wide Receiver in the NFL for the Los Angeles Raiders, Los Angeles Rams and New Orleans Saints. During his impressive career, Mark was voted as player of the year on two occasions and was inducted into the Roosevelt Hall of Fame and the Husky Hall of Fame as part of the 1984 team at the University of Washington. Mark launched his weekly podcast in 2017 called Finding Your Summit, interviewing high achievers who have overcome adversity. It has gained many plaudits as well as 250,000+ downloads and 250 episodes released.