Top Female Speakers
The world's top female entrepreneurs, CEOs, Executives, Authors, Medical Experts, Scientists, Diversity & Inclusion Experts, Leadership, Inspirational and Motivational speakers are leading voices in their fields and through their passion, they empower us to strive to be the best versions of ourselves. Top female entrepreneurs bring more diverse problem-solving, enhanced collaboration and employee engagement and an emphatic approach to developing and dealing with relationships within the work environment.
The McKinsey Global Institute reports that, in advancing women's equality in the workplace, organisations across the world can add $12 trillion to the global GDP by 2025.
Dr Vivienne Ming explores maximising human capacity as a theoretical neuroscientist, delusional inventor, and demented author. Over her career, she's founded 8 start-ups, been chief scientist at 2 others, and launched the "mad science incubator", Socos Labs, where she explores seemingly intractable problems—from a lone child's disability to global economic inclusion—for free. As the co-founder and Chief Scientist of Dionysus Health, she applies machine learning to lessen the corrosive health effects of chronic stress in communities. She also develops tools for learning at home and in school and TBI, models of bias in hiring and promotion, and neurotechnology to treat dementia, an outgrowth of her research at the Redwood Centre of UC Berkeley for Theoretical Neuroscience. In her free time, Vivienne designs AI systems to treat her son's diabetes, predict manic episodes in bipolar sufferers, and reunite orphan refugees with extended family members.
Skills include – AI | Technology | Leadership | Empowerment | Innovation | Public Speaking | Policy | Education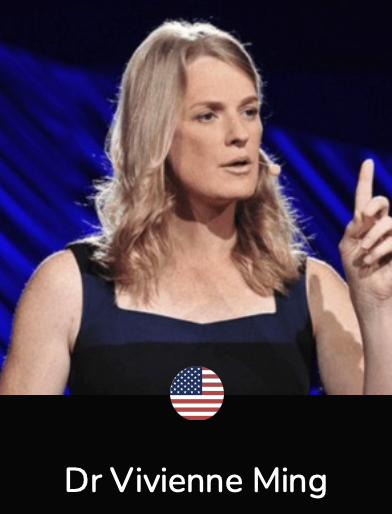 Sramana Mitra is the Founder and CEO of One Million by One Million (1Mby1M), the world's first and only global virtual incubator/accelerator. Its goal is to help a million entrepreneurs globally reach a million dollars in annual revenue, build a trillion dollars in global GDP, and create 10 million jobs. Since its founding in 2010, 1Mby1M has become a powerful platform for the democratisation of entrepreneurship acceleration. Sramana also developed 1Mby1M's Incubator-in-a-Box methodology for Corporate Incubation that is used by enterprises to manage internal and external innovation endeavours. In 2015, LinkedIn named Sramana one of their Top 10 Influencers alongside Bill Gates and Richard Branson. Sramana has been an entrepreneur and a strategy consultant in Silicon Valley since 1994. Her fields of experience span from hardcore technology disciplines like Artificial Intelligence, Cloud Computing and Semiconductors, to sophisticated consumer marketing industries.
Skills include – Startups | Entrepreneurs | Venture Capital | Entrepreneurship | Start-up Strategies | Virtual Incubator / Accelerator | Strategy | Leadership | Innovation | Technology Thought Leadership | Artificial Intelligence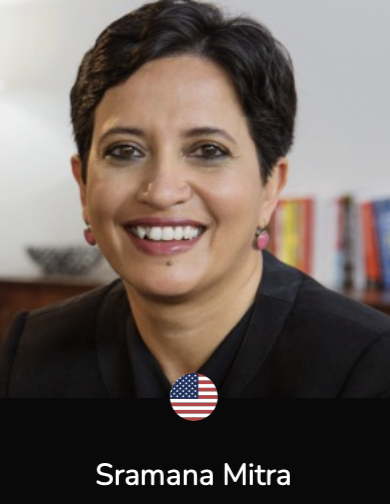 Gaia Grant (PhD) is the creator of the unique 'Innovative Change Leader' Profile (iCLi) and 'Polar Positioning' (PoP) tool. Dr Grant is a director of Tirian Consulting, and the author of The Innovation Race and Who Killed Creativity Gaia is a passionate researcher and lecturer who studies sustainable innovation leadership. Gaia is a course designer and lecturer in the Work Integrated Learning Hub (WIL Hub) and an associate adjunct faculty member of the University of Sydney Business School in the Discipline of Strategy, Innovation and Entrepreneurship.
Skills include – Executive Performance | Innovator | Keynote Presenter | Author | Coach | Facilitator | Leadership | Course Designer | Lecturer | Strategy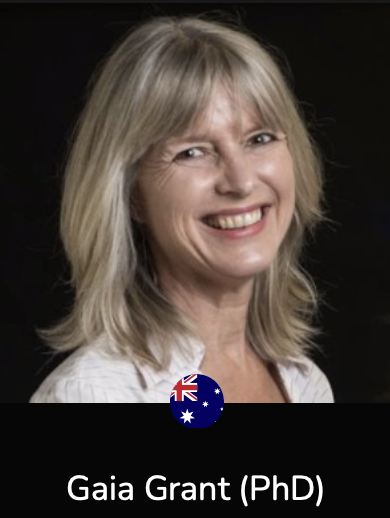 Shannon is an author, business leader, and was one of the first women to fly the Apache attack helicopter in a deployable line position in the U.S. Army. She was assigned to Fort Bragg as the only woman among 120 pilots in the regiment. Shannon commanded three line units on three continents. Shannon later earned her MBA at top ranked Tuck School of Business at Dartmouth and led outstanding teams in the corporate world as well, in the medical device and technology industries (Microsoft). Shannon helps companies and organisations develop and deploy purpose-driven leadership for engaged and resilient employees and world-class results through ten years of experience as a top rated keynote speaker and executive educator/executive coach. Shannon is the Author of the acclaimed The Grit Factor, CEO of The Grit Institute and is Host of The Grit Factor podcast.
Skills include – Leadership | Igniting Business Leaders | Culture Building | Innovation | Resilience | Engagement | Communication | Executive Coaching | Writing | Motivational Speaking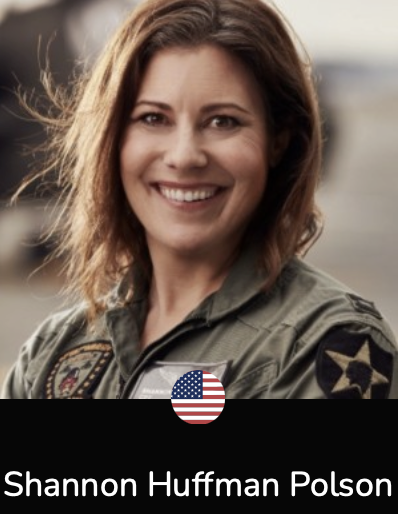 Dr Jodie Lowinger is an internationally recognised top secret weapon to some of the most successful CEO and Executive teams around the world. Dr Jodie has become an expert when it comes to optimising human potential with thought leadership dealing with anxiety, mindset and resilience. In addition to becoming a best-selling author with her book called The Mind Strength Method, Dr Jodie has also become a world renowned keynote speaker. Speaking about various topics from boosting workplace resilience and wellbeing to developing outstanding leaders and teams. As the Founder of The Anxiety Clinic, Dr Jodie and her team of professionals have helped thousands of adults, children and adolescents overcome anxiety, stress, mood and behavioural challenges. Dr Jodie has a network of clients that includes the likes of SAP, Citi, Audi and QANTAS.
Skills include – Mental Health | Psychology | Mindfulness | Clinical Research | Resilience | Mentoring | Team Building | Stress Management | Leadership Development | Communication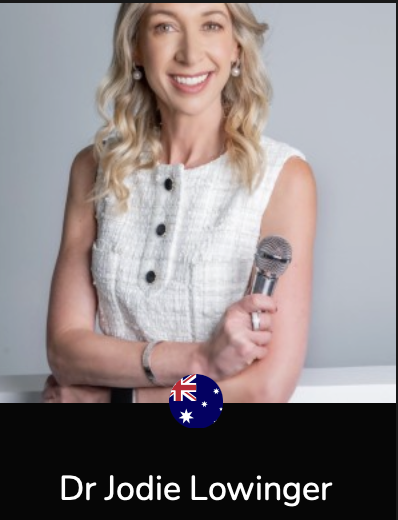 Dalia Feldheim is the author of Dare to Lead Like a Girl and is an Israeli citizen who began her career as a platoon commander in the Israeli Defense Forces, and has had various leadership roles ever since. For 17 years she was a marketing executive at Procter & Gamble, after which she did a 10-year stint as CMO Asia for another Fortune 500 company, where she headed a team of 100 people across Asia. Dalia has led many memorable advertising campaigns, including Always #LikeAGirl in 2014, which won 14 Cannes awards and was listed on the Forbes 2020 10 Most Influential Campaigns of the Century. Her Whispers Touch the Pickle campaign won the 2014 winner Cannes Sheryl Sandberg Glass Ceiling Award. Dalia is also an adjunct professor of The Science of Happiness at the Singapore Management University and, in partnership with Dr. Tal Ben Shahar and the Happiness Studies Academy, founder of Uppiness, an online game to promote wellbeing at work.
Skills include – Public Speaking | Customer Insight | People Development | Marketing Strategy | Brand Management | Business Strategy | Brand Development | International Marketing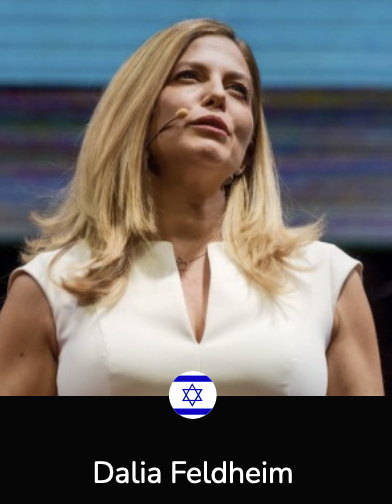 Patrizia Cassaniti is an International award-winning work health and safety advocate with a compelling and confronting life story. Having had to deal with the tragic death of her 18 year old son, Patrizia went on to make a positive change. In 2021, she won the Gold Stevie award as Maverick of the Year, which recognises the achievements of female individuals who have affected positive change in their companies or industries. Patrizia shares the crucial lessons to everyone in construction, manufacturing and engineering that need to hear the importance of removing complacency and creating a safe working environment for themselves and all work colleagues.
Skills include – Safety Training | Public Speaking | Fundraising | Environment, Health and Safety | Occupational Health | Inspiration | Resilience | Workplace Safety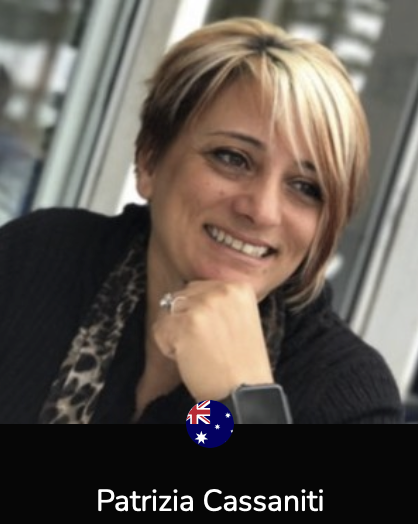 Mandy Hickson was a Fighter Pilot and is now a world renowned Keynote Speaker and Best Selling Author. Mandy was the only female pilot on her Front-Line Tornado Squadron, flying multimillion-pound fast jets for the Royal Air Force. She has operated in hostile environments, including patrolling the 'No Fly' zone over Iraq. Drawing on her experience of calculated risk-taking, decision-making under pressure and the critical role of the human in the system, she transfers vivid lessons from the cockpit to other management and leadership contexts. Mandy is a highly demanded keynote speaker and has been invited to share her insights with some of the most successful organisations across the world where she describes the Strategies, Tactics & Behaviours that she adopted when the stakes were at their highest. Author of the best-selling book 'An Officer, not a Gentleman' an inspirational journey of a pioneering female fighter pilot.
Skills include – Leadership | Performing Under Pressure | Inspiration | Empowerment | Resilience | Motivation | Diversity and Inclusion | Dealing with Adversity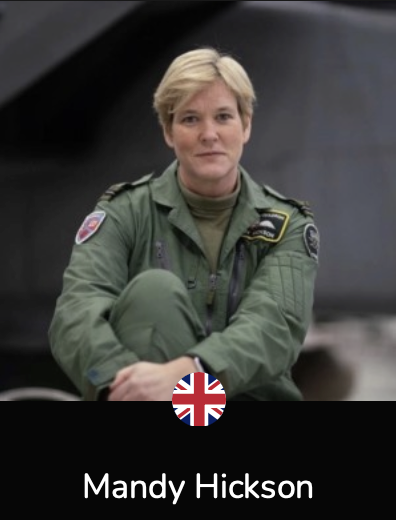 Michelle MACE Curran is an inspirational female F16 Fighter Pilot who flew in the US Air Force Thunderbirds. Michelle grew up in a small town in Wisconsin and transformed herself from a shy person to a Lead Solo for the US Air Force Thunderbirds. Mace has a passion for pushing limits and inspiring others with her energy and experiences from her career. Mace was commissioned to the US Air Force and spent 13 years as an F-16 Fighter Pilot. From 2019 to 2021, Mace was a Solo Pilot for the Air Force Elite Squadron – The Thunderbirds. She is the second woman ever to fly in the Lead Solo position since the team began in 1953. Since leaving the US Air Force, Mace founded Upside Down Dreams which inspires people to pursue dreams outside of their comfort zones. Mace delivers keynotes to organisations with lessons of grit, perseverance, determination and teamwork. She empowers individuals to shift their mindset to see their true potential.
Skills include – Inspiring others | Helping you turn off that voice of self-doubt | Making you realise the power to success lies within you | Showing you how to shift your mindset to shift your trajectory | Leading you to discover a new way to view failure.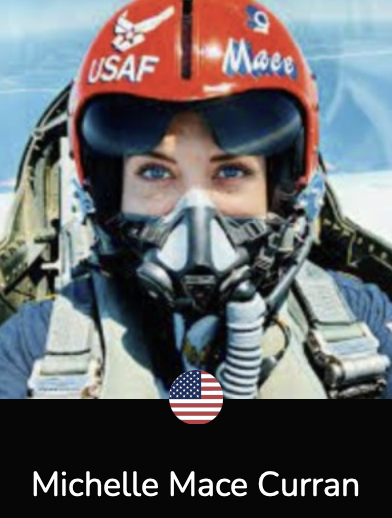 Dr Linda Friedland is an internationally renowned Health Professional, Medical Doctor and Corporate Advisor with more than 20 years of experience in the field of Clinical Medicine and 15 years of consulting and advisory to leading global companies. Dr Friedland is a well-regarded international speaker and a best-selling author of seven health, women's health and medical books. Her newest book – Freedom from Disease – was a number 1 bestseller on Amazon. Dr Friedland is passionate about both women's empowerment and social impact and is committed to several public health and social responsibility projects globally. Dr Friedland has developed and implemented numerous health, lifestyle and illness prevention programs around the world. Dr Friedland is the Head of Business Development Firebrick Pharma (Australia), Chief Medical Officer to The Anti-Inflammaging Company (Italy & UAE), Consultant to TargImmune Therapeutics AG (Switzerland) and Healthcare Advisor (NY & Madrid).
Skills include – Medicine | Leading Teams | Empowerment | Social Impact | Advisory | Research | Writing | Disease and Illness Prevention | Prevention Programmes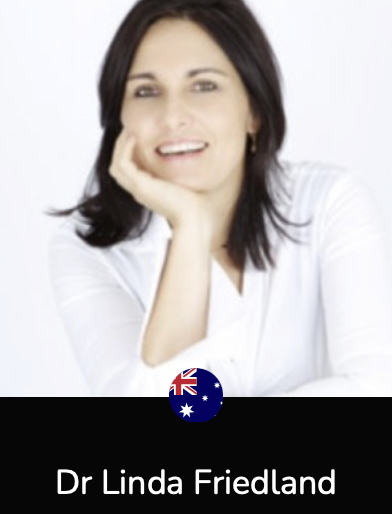 Emmah Money is a 2020 Australian of the Year, South Australia Local Hero, Cystic Fibrosis Ambassador and Author. When Emmah was born she was diagnosed with CF and was given up for adoption as Doctors said that her chance of survival was so low. Not long before her 17th birthday, out of the blue Emmah reunited with her biological family by chance who had believed she had passed away. Emmah who is now in her thirties and is a mother of two has gone above and beyond to help and raise money for people with CF. Throughout her time as an ambassador for the Cure4CF Foundation, Emmah has raised awareness and more than $50,000, whilst also winning a 3 year battle with the Australian Government to put the life-changing drug, Orkambi, on the Pharmaceutical Benefits Scheme. Emmah is a regular speaker across many schools in Australia, motivating and inspiring students about overcoming hurdles in life including bullying and depression and also what it is like to live with an invisible disability.
Skills include – Public Speaking | Leadership | Social Media | Motivation | Resilience | Event Planning and Management | Adversity | Authoring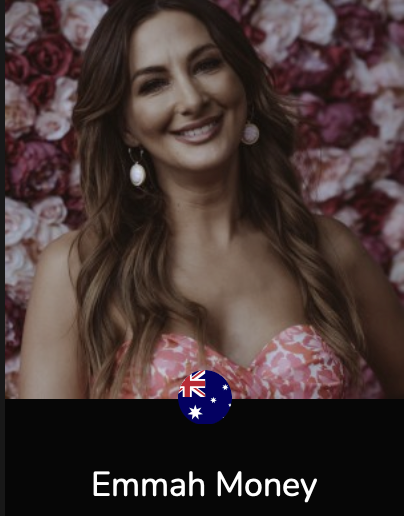 Natalie Kyriacou is an Australian social entrepreneur, environmentalist, Board member, PwC Business Development Lead (Environment, Social & Governance) and CEO of My Green World, inspired by curiosity and impact. Her passion is in exploring the intersection of environmental, social, economic and governance issues in Australia and abroad. Natalie is a global emerging leader and was awarded the Medal of the Order of Australia for her services to wildlife and environmental conservation and education in 2018. Natalie is a Forbes 30 Under 30 (2018) honouree in recognition of her Social Entrepreneurship and a UNEP Young Champion of the Earth Prize Finalist. She is one of LinkedIn's 2022 'Top Green Voices' and named as one of The Australian's 2022 'Top Innovators'. Natalie is the CEO of My Green World, Board Committee Member at CARE Australia, Board Advisor at the Women Leaders Institute, the former Australian Director of Sri Lankan-based NGO, Dogstar Foundation.
Skills include – Leadership | Environmental Speaker | Conservation | Biodiversity | Climate Change | Gender Equality | Diversity & Inclusion | ESG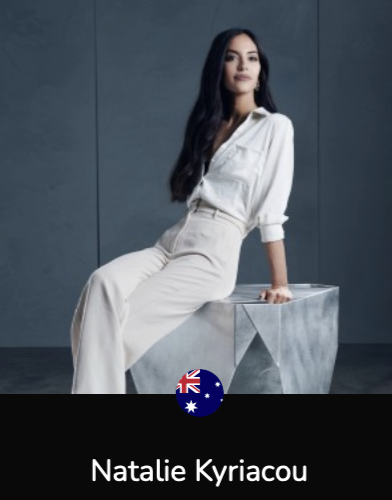 Christina Daves is a successful Virtual Speaker, Trainer, PR Strategist and Best Selling Author. Christina has had repeated success as an entrepreneur and award winning inventor. Christina shares her story about how to reach your goals using simple yet proven tactics that have catapulted her businesses and helped a host of other entrepreneurs achieve great success. Christina was named Top Inventor by Steve Harvey on his Emmy Award Winning Daytime Talk Show. Christina has also appeared in media productions for over 1000 media outlets such names as NBC, CBS, FOX and Forbes. Christina has authored two books of acclaim called PR for Anyone and The DIY Guide to Free Publicity with the latter being a number 1 international best seller.
Skills include – Marketing | Entrepreneurship | Social Media | Strategy | Business Development | Public Speaking | Retail | Brand Development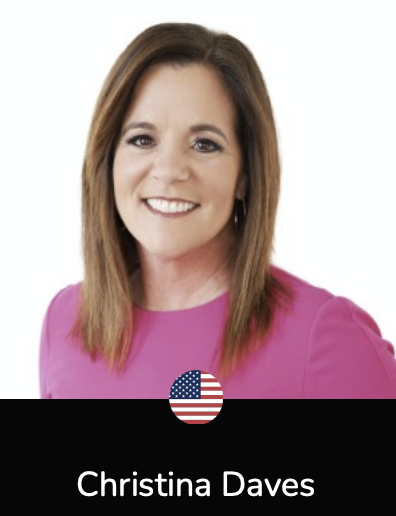 Natalie Riso is a 3x recipient of the Top Voice Award for LinkedIn and in 2015 became the youngest recipient of the award. Natalie is also the Marketing & Partnerships Lead for LTSE (Long-Term Stock Exchange) in New York. LTSE was started by Eric Ries, the author of the Lean Startup, as a stock exchange and software company to help drive bigger returns for a better world. Prior to joining LTSE, she led global partnerships and content marketing at 500 Startups (now called 500 Global), one of the most active early-stage VC firms globally. Whilst at 500 Global, Natalie notably launched the Female Founders and Black Founders Hubs. In 2018, Natalie became the most followed student on LinkedIn in the world. She's covered startups, ESG, mental health, and the future of education. As she kept publishing remarkably candid work stories, her audience grew, eventually reaching nearly 400,000 followers.
Skills include – Content Strategy | Project Management | Thought Leadership | Event Production | Sponsorship Strategy | Influencer Marketing | Digital Marketing | Event Marketing Strategy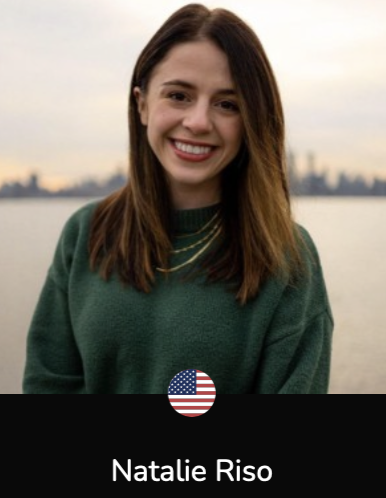 Heidi Loughlin was diagnosed with the rarest and most aggressive form of breast cancer while 13 weeks pregnant. Heidi was left with the awful decision to make, life-saving treatment or to save her baby. Heidi declined treatment to protect her little girl but was all aware of the little boys she had at home that needed their mum. The unimaginable then happened when her daughter passed away and then Heidi discovered that her cancer could not be cured. Heidi's unwillingness to give up, saw her surpass many milestones deemed unlikely by Doctors and has been able to share her story with strength, positivity and the ever-apparent humour that sometimes leaves audiences with whiplash. Heidi has garnered a world-wide following through her blog 'Storm in a tit Cup' which has over a million hits due to its shockingly honest account of living with cancer, grieving for her daughter but navigating life by pushing herself.
Skills include – Diversity & Inclusion | Health & Wellbeing | Inspiration | Motivation | Goal Setting | Inspirational | Mindset | Overcoming Adversity | Resilience | Self-Belief | Social Media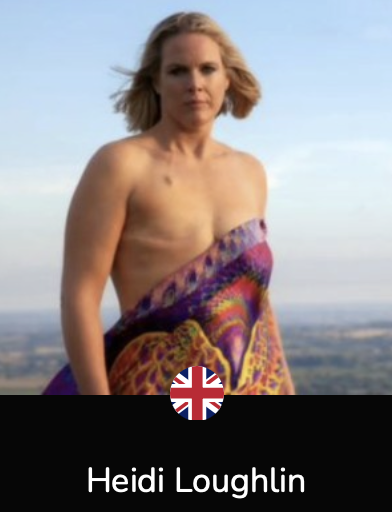 Zoë Tryon is an internationally renowned Activist, Speaker and Artist known for her work with indigenous communities globally. Zoe is the Founder of One of the Tribe Journeys – immersive experiences with indigenous communities in the Ecuadorian Amazon and Andes. Through One of the Tribe, Zoë has led journalists, filmmakers, celebrities to witness places in the world few will ever see. Zoe also founded the One of the Tribe non-profit to raise awareness for the issues facing indigenous communities and has acted as a cultural liaison between indigenous and Western leaders since 2006 when she first began living with the Achuar Tribe in the Amazon. Since then Zoe has lived and worked with the Achuar, Shuar, Kichwa, Sapara and Waorani peoples across Ecuador. Zoë speaks worldwide on the interconnected issues of environmental stewardship and corporate responsibility and how we can apply extraordinary wisdom from tribal cultures to our lives today.
Skills include – Speaker | Indigenous Rights Activist | Ambassador | Writer | Leadership | Inspiration | Empowerment | Resilience | Overcoming Challenges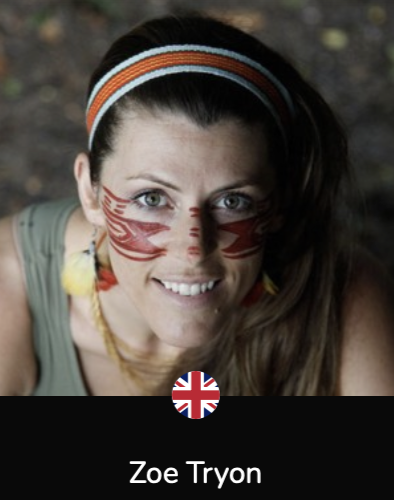 Vanessa Ruck is a motorcycle rider, Keynote Speaker and Influencer. After being hit by a car while cycling in 2014 Vanessa had her world turned upside down, resulting in 7 surgeries and a rollercoaster of mental and physical recovery spanning 7 years. Through her recovery she discovered motorcycles, becoming known as The Girl On A Bike. Combining her ten-year career in marketing and her resilience for life, Vanessa now inspires others to get up and tackle the battles life throws at us with gratitude and happiness. Through years of adversity, Vanessa understands the strength needed to come out stronger against the curveballs life throws at us. Vanessa is on a mission to show that nothing is impossible if you work hard enough, even as a slightly reconstructed person following the accident.
Skills
Skills include – Overcoming Adversity | Social Media | Public relations | Public Speaking | Marketing Communications | Teamwork | Resilience | Inspiration | Motivation