Top 10 Business Speakers
Professional business speakers are experts at improving an audience's thinking process, allowing them to solve problems, face challenges, and generate creative ideas more effectively. This boosts employee confidence and inspires a renewed drive for workplace success.
Business speakers can inspire you, ensure you're on the right track, help you understand and evaluate employee performance, and foster employee engagement.
Here is a selection of some of the Top Business Speakers:
Jim Louderback is the former CEO of VidCon and Revision3 is a world-leading keynote business speaker. Jim is one of the most well-respected figures in Digital Media with a 25-year history of leadership at the intersection of Publishing, Media and Technology. Jim recently ended an 8-year run with VidCon, starting in 2014 as editorial director of the industry track, and taking over as CEO in 2017. In early 2018, Jim led the sale of VidCon to Viacom.
Skills include – Technology | Media | Leadership | Innovation | Entrepreneurship | Television | Senior Management | Programming | Inspiration | Motivation | Longevity
Researcher, accomplished author and Guest lecturer at the University of Sydney Business School Gaia Grant is a highly skilled presenter and facilitator. Gaia is the managing director of Tirian International Consultancy and the co-author of The Innovation Race: How to change a culture to change the game, and Who Killed Creativity?… And How Can We Get it Back?, as well as the author of a number of additional books and resources, including A Patch of Paradise and The Rhythm of Life. Gaia is a course designer and lecturer in the Work Integrated Learning Hub (WIL Hub) and an associate adjunct faculty member of the University of Sydney Business School in the Discipline of Strategy, Innovation and Entrepreneurship.
Skills include – Executive Performance | Innovator | Keynote Presenter | Author | Coach | Facilitator | Leadership | Course Designer | Lecturer | Strategy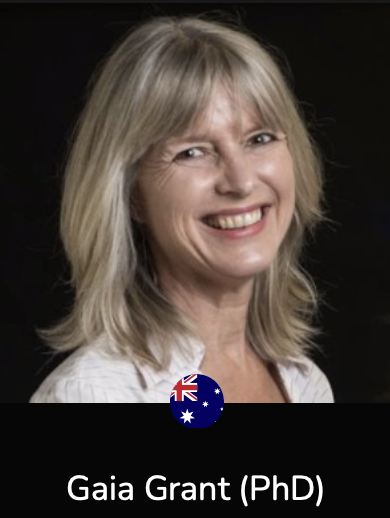 Stephen Shapiro is an Innovation Expert, Author and Hall of Fame Speaker who shares his knowledge of innovation with Fortune 500 companies around the world and continuously inspires teams to enhance their creative abilities. Based on his insights, organizations like NASA, Marriott, 3M, P&G and USAA have revolutionised the way they tackle innovation with Stephen showing leaders and their teams how to approach, tackle and solve their business challenges. During his 15-year tenure at Accenture, while co-leading the company's business process reengineering practice, he realized he no longer wanted to be responsible for people losing their jobs, so he did the opposite by building the 20,000 workforces at Accenture. Stephen bases his keynote speeches on his books – Invisible Solutions, Best Practices are Stupid, and Personality Poker.
Skills include – Innovation | Problem Solving | Solutions | Best Practice Management | Business Consulting | Business Transformation | Author | Public Speaking | Creativity | Organic Growth | Process Innovation | Adaptive Organizations | Breakthrough Solutions
David Mead is an international best-selling author and thought leader who worked alongside Simon Sinek and most notably co-authored the acclaimed book Find Your Why. David helps organizations solve Culture Dissonance so the advertised culture matches the experience people actually have.
Skills include – Leadership | Public Speaking | Organisational Culture | Human Leadership | Corporate Training | Motivation | Teamwork | Development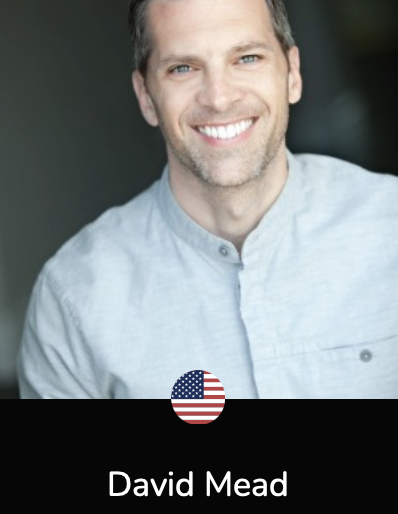 Chris McChesney is an internationally renowned best-selling author of The 4 Disciplines of Execution®, the most popular book in the world on Strategy Execution. Chris is able to convey the simple method to execute strategies in your organization that require a change in human behaviour. Chris and his team of 4DX consultants have worked with 4,000+ organisations around the world. Chris has spoken in 22 countries on 6 continents, personally leading many of the most noted implementations of 4DX. Chris is one of the top-rated speakers to ever appear at The Global Leadership Summit, an annual gathering of 400,000 leaders in over half the countries in the world. You have amazing ideas. Let's execute them.
Skills include – For over 20 years, Chris has helped thousands of organisations to improve their execution.
Chip Eichelberger worked as an international partner for the globally renowned business leader Tony Robbins for five years before going into business for himself in 1993. Since then, he has galvanized nearly a thousand events for some of the most prestigious companies in the world, including Ford, Hyatt, Wells Fargo, Proctor & Gamble, Exxon, NADA and PMI. For three years in a row, Chip has been ranked a top five speaker by Speaking.com and holds the much sought-after Certified Speaking Professional designation from the National Speakers Association (only 7% of members have achieved this).
Chip prides himself on intense in-depth research into his audience, which enables him to provide an interactive experience like no other, inspiring and motivating listeners to challenge their core thinking. He creates unique interactive handouts for every event, a reflection of his determination to provide the very best value and training experience.
Skills include – Motivational Speaking | Leadership | Public Speaking | Team Building | Leadership Development | Personal Development | Strategic Planning
Dr Jodie Lowinger is an internationally recognised top-secret weapon to some of the most successful CEO and Executive teams around the world. Dr Jodie has become an expert when it comes to optimising human potential with thought leadership dealing with anxiety, mindset, and resilience. In addition to becoming a best-selling author with her book called The Mind Strength Method, Dr Jodie has also become a world-renowned keynote speaker. Speaking about various topics from boosting workplace resilience and wellbeing to developing outstanding leaders and teams.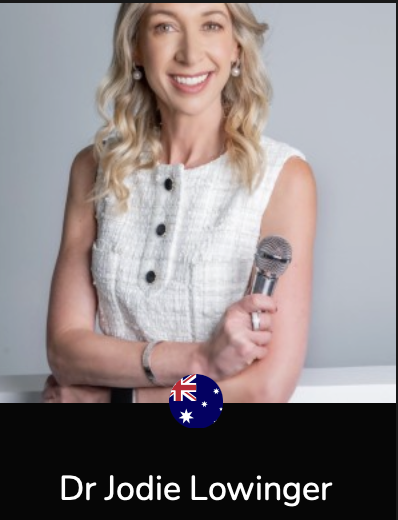 As the Founder of The Anxiety Clinic, Dr Jodie and her team of professionals have helped thousands of adults, children and adolescents overcome anxiety, stress, mood and behavioural challenges. Dr Jodie has a network of clients that includes the likes of SAP, Citi, Audi, and QANTAS.
Skills include – Mental Health | Psychology | Mindfulness | Clinical Research | Resilience | Mentoring | Team Building | Stress Management | Leadership Development | Communication
Shawn DuBravac is a Futurist, Founder, Trendcaster, Keynote Speaker, and New York Times Best Selling Author from the United States of America. Dr Shawn DuBravac is the author of the New York Times Best Seller Digital Destiny: How the New Age of Data Will Transform the Way We Work, Live, and Communicate (Regnery, 2015), which explores how the world's mass adoption of digital technologies portends the beginning of a new era for humanity in the realms of business, healthcare, finance, transportation and culture. DuBravac is a well-regarded futurist and trendcaster who writes frequently on disruptive technological shifts. He advises companies and C-level executives on market opportunities and industry strategy.
Skills include – Leadership | Innovation | Technology | Public Speaking | Economics
Joe Jordan is a leading business transformation expert that helps companies accelerate business transformation and growth through decisive leadership, effective critical thinking, and enhanced communication. Initiatives integrate sales strategies, talent development, and operational improvements with critical business growth objectives.
Skills include – Leadership Development | Management Consulting | Keynotes | Corporate Training | Executive Coaching | Business Consulting | Team Building | Critical Thinking | Collaborative Communication | Customer Engagement/Sales | Career Development Coaching | Virtual, In-classroom, and Web-based Training | Author
Anoushka Gungadin is a Keynote Speaker, Med Tech Expert and a Cultural Intelligence and Inclusion leader. Anoushka has a curious mind for learning, having shaped a career over the last 20 years, working and living across Asia, Europe, Africa and Australia. Anoushka is an experienced CEO, Finance Executive, Non-Executive Director, founder, advisor and speaker, working across industries and with global brands, NFPs and start-ups. Anoushka works at the intersection of leadership, impact and technology in my current portfolio, consulting and Non-Executive Director roles, with a keen interest in MedTech, digital health and solutions. Anoushka is a researcher, author and international speaker on the topics of inclusive diversity, the future of work and cultural intelligence.
Skills include – Med Tech | Cultural Intelligence | Diversity and Inclusion | Leadership | Author | Start Ups | Collaboration | Integration | High Performance