Feeling Burnt Out – Overcome Burnout with an Inspirational Speaker
Burnout is a state of physical and emotional exhaustion that can occur when you experience stress or when you have worked in a physically or emotionally draining role for a sustained period of time.
What are the signs of burnout?
Common signs of burnout include feeling tired, drained, helpless, trapped and blurred thinking most of the time.
How are stress and burnout different?
Stress is having too much on your plate — too much work to handle, too many responsibilities, and too many hours spent working. Burnout is the opposite. You typically feel like you don't have enough — not enough motivation, not enough energy, not enough care. You may be at a higher risk of burnout if you have poor self-esteem, unrealistic expectations in the workplace or aren't comfortable coping with stressors. You may also experience burnout at a higher rate if your job requires a heavy workload, is understaffed, has conflicts in the workplace or doesn't reward work when there is a job well done.
Stages of Burnout
1 – Honeymoon Phase: high levels of energy and productivity experience
2 – Initial Stress Phase: more frequent moments of stress with physical and mental signs of fatigue
3 – Chronic Stress Phase: more persistent stress with pressure mounting that consistently impacts work with experiences of procrastination and withdrawal from social situations.
4 – Burnout Phase: limit reached and can no longer function as you normally would with problems consuming you to the point where you obsess over them. Extreme self doubt is common along with some medical conditions like headaches, digestion and stomach issues along with behavioural changes.
5- Habitual Burnout Phase: now a part of everyday life with chronic fatigue setting in which can lead to extreme anxiety and depression.
Physical symptoms include:
Feeling tired
Having difficulty sleeping
Experiencing a change in appetite
Dealing with headaches or muscle pain
Emotional symptoms include:
Lacking motivation
Experiencing feelings of self-doubt
Failure or loneliness
An overall feeling of dissatisfaction
Behavioural symptoms include:
Social isolation
Not performing your responsibilities
Work-related anger outbursts
How to recover from Burnout?
The first step to recovering from burnout is to acknowledge that something is not right. The next step is seeking help and this can be in the form of your doctor or a specialist referral in the field.
How important is your team or organisation to you?
Here are our Top 10 speakers who will inspire and motivate you to deal with adversity, challenges and difficult times that can lead to stress and ultimate burnout.
Dr Jodie Lowinger is an internationally recognised top secret weapon to some of the most successful CEO and Executive teams around the world. Dr Jodie has become an expert when it comes to optimising human potential with thought leadership dealing with anxiety, mindset and resilience. In addition to becoming a best-selling author with her book called The Mind Strength Method, Dr Jodie has also become a world renowned keynote speaker. Speaking about various topics from boosting workplace resilience and wellbeing to developing outstanding leaders and teams.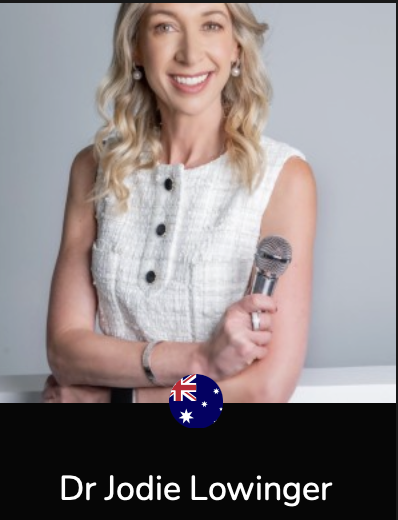 Stephen McGown was born and raised in South Africa. In 2011, whilst on the trip of a lifetime riding his motor-bike from London to Johannesburg, Stephen was abducted by Al Qaeda in Timbuktu and held hostage in the Saharan Desert for 6 years. Stephen went to extraordinary lengths to survive against all odds. While being held captive in the Sahara, he experienced the loneliness and desperation that people go through when feeling overwhelmed and forgotten, he recognized the need to help others. In 2017, Stephen was released and now tells his story about overcoming the impossible situation.
Andy Reid is a former British Army soldier who served for 15 years in the Army and is now an acclaimed inspirational speaker. In 2009, Andy has his life changed forever whilst on patrol in Helmand Province, Afghanistan. Having stepped on an explosive device planted by the Taliban he was injured so badly it was miraculous that he survived. The IED plate which Andy stepped on whilst serving for the 3rd Battalion The Yorkshire Regiment resulted in him losing his right arm and both of his legs. His recovery had people in awe as he only spent 2 weeks in hospital before returning. Through his incredible attitude, inner fortitude and will to overcome such adversity, Andy has not stopped being positive.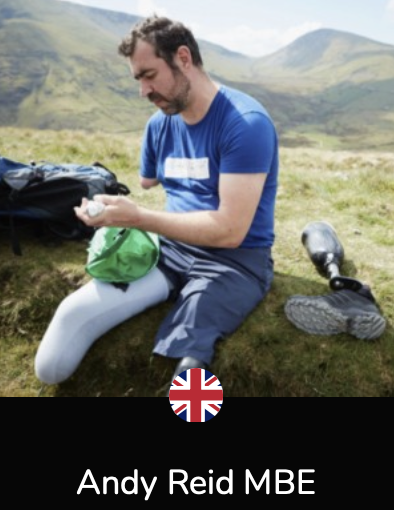 Heidi Loughlin was diagnosed with the rarest and most aggressive form of breast cancer while 13 weeks pregnant. Heidi was left with the awful decision to make, life-saving treatment or to save her baby. Heidi declined treatment to protect her little girl but was all aware of the little boys she had at home that needed their mum. The unimaginable then happened when her daughter passed away and then Heidi discovered that her cancer could not be cured. Heidi's unwillingness to give up, saw her surpass many milestones deemed unlikely by Doctors and has been able to share her story with strength, positivity and the ever-apparent humour that sometimes leaves audiences with whiplash. Heidi has garnered a world-wide following through her blog 'Storm in a tit Cup' which has over a million hits due to its shockingly honest account of living with cancer, grieving for her daughter but navigating life by pushing herself.
Jamie Hull is a former soldier of the British Special Forces Reserve and is now an internationally renowned speaker and author. In 2007 whilst fulfilling his dream of becoming a pilot, Jamie was on a solo flight that changed his life forever when an engine caught fire and the plane suddenly descended towards the ground. Jamie managed to climb onto the wing of the stricken plane and remained there before jumping off 15 feet from the ground. Jamie managed to survive this impossible situation and with 60% of his body covered in third degree burns, he lay in a coma in intensive care for six months. Jamie had a survival rate of less than five percent but somehow managed, against all odds, to survive almost certain death. Jamie has undergone 50 operations since this day and with incredible strength and determination he has transformed his life. Today, Jamie is an inspirational keynote speaker and is ready to meet you front on with his incredible story.
Rhys Thomas is a former Welsh international rugby player who also played for the Dragons and Scarlets. In 2012, Rhys had his career cut short and was forced to retire after suffering a major heart attack in training. This resulted in a quadruple heart bypass, multiple operations and eventually being fitted with a pump that helps keep him alive. As a result of this life changing event, Rhys lost everything including his career and identity. Rhys was not able to deal with his emotions or feelings which ultimately led him to alcoholism and many dark moments. Through seeking support and attending rehab, Rhys was able to overcome these challenges and is now ready to share his story. Rhys was able to refocus and gain perspective on his life, providing direction and purpose enabling him to turn his life around. Those experiences allow him to help others through sharing his story, breaking stigmas, supporting and mentoring to maximise positive outcomes.
Sean Swarner is a two-time terminal cancer survivor and was given a prognosis of 14 days to live. No one expected him to achieve what he has in life. With only one lung, Sean is the only person in history to climb Mount Everest, climb the highest mountain on all 7 continents, ski both the North and South Poles, and complete the Hawaiian Ironman. Sean is a multiple world-record holder, author, exec producer and award winning speaker. Sean is the author of the internationally acclaimed publications – Being Unstoppable and Keep Climbing. Sean is an incredible human being, overcoming the impossible and is now ready to share his inspirational story on LassWho.
8 – Carol Cooke
Carol Cooke is a three-time Paralympian and one of the most influential and motivational figures in Australian sport. Diagnosed with multiple sclerosis in 1998, just before her 37th birthday Carol narrowly missed out on a spot at 2008 Paralympics as a rower before making the switch to cycling. Her debut Paralympic Games was in London 2012 where she won a gold medal in the mixed time trial. In Rio, 4 years later Carol went on to win a further two gold medals before claiming silver in her most recent Paralympic appearance in Tokyo 2020. Carol made her first appearances at the road World Championships in 2011 and since then has won an incredible 9 gold medals and 5 silver medals. Carol was appointed a Member of the Order of Australia in the 2014 Australia Day Honours, for significant service to sport as a gold medalist at the London 2012 Paralympic Games, and through fundraising and representational roles with charitable healthcare organisations.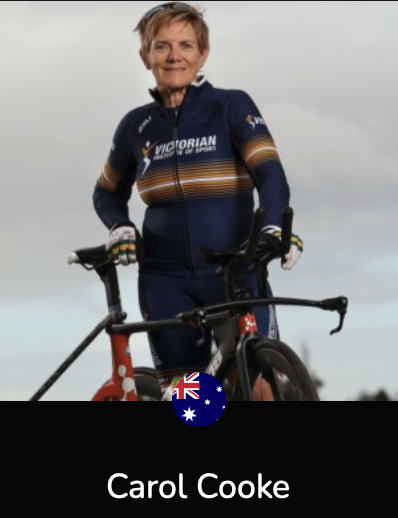 Dr. Vivienne Ming explores maximising human capacity as a theoretical neuroscientist, delusional inventor, and demented author. Over her career she's founded 8 startups, been chief scientist at 2 others, and launched the "mad science incubator", Socos Labs, where she explores seemingly intractable problems—from a lone child's disability to global economic inclusion—for free. As the co-founder and Chief Scientist of Dionysus Health she applies machine learning to lessen the corrosive health effects of chronic stress in communities. She also develops tools for learning at home and in school and TBI, models of bias in hiring and promotion, and neurotechnologies to treat dementia, an outgrowth of her research at the Redwood Center of UC Berkeley for Theoretical Neuroscience. In her free time, Vivienne designs AI systems to treat her son's diabetes, predict manic episodes in bipolar sufferers, and reunite orphan refugees with extended family members.
Gerry Convy is a Formula 1 motorsport performance coach. Gerry has spent the last twenty-two years helping professional motorsport drivers enhance their performance both physically and mentally. Working with McLaren-Mercedes F1, Force India F1, HWA Formula E, Mercedes-Benz DTM and Formula E, Gerry has helped many of the sports biggest names reach new heights with their performance. Gerry has worked closely with the likes of Fernando Alonso, David Coulthard, Juan-Pablo Montoya, Sir Jackie Stewart, Stoffel Vandoorne, Dario Franchitti and Paul Di Resta who have all benefited from the expertise and bespoke training plans that Gerry has delivered to them. Gerry now works with various individuals/teams eg. WEC (World Endurance Championship), Formula E, Golf, Self Defence clients.