Top 10 Paralympian Speakers
Paralympians have incredible stories to share including teaching us how to persevere in the face of physical and mental challenges.
Paralympians are able to share the moments that shaped their successful careers. They are able to give us a unique insight into the preparation, sacrifice, dedication, determination and drive not only from the lens of sport but life in general – including how society deals with diversity and inclusion and where we are today with ensuring we continue progressing toward being more open and inclusive.
Top International Paralympic Speakers ready to inspire, empower and uplift at events – available for virtual speaking opportunities.
Scott Reardon is an Australian Paralympic World Champion and is considered one of the greatest T63 athletes in the history of the sport. Before Scott was a sprinter, he was a 12-year-old digging holes at his family farm in the Australian country town of Temora. Standing on the frame of a post-hole digger, Scott's shoelace was untied, and it caught in the power take-off shaft of a tractor, severing his right leg. Incredibly – and perhaps in a sign of his success to come – Scott relearned how to walk in just a week and a half.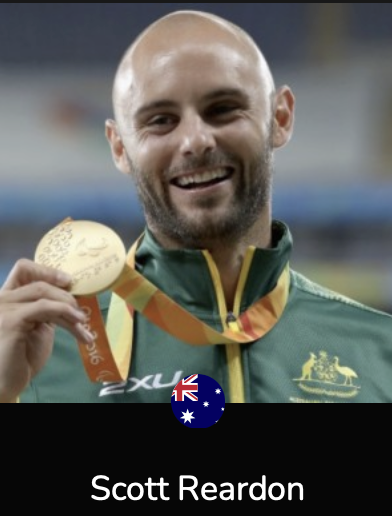 Carol Cooke is a three-time Paralympian and one of the most influential and motivational figures in Australian sport.
Diagnosed with multiple sclerosis in 1998, just before her 37th birthday Carol narrowly missed out on a spot at the 2008 Paralympics as a rower before making the switch to cycling. Her debut Paralympic Games was in London 2012 where she won a gold medal in the mixed time trial. In Rio, 4 years later Carol went on to win a further two gold medals before claiming silver in her most recent Paralympic appearance in Tokyo 2020. Carol made her first appearances at the road World Championships in 2011 and since then has won an incredible 9 gold medals and 5 silver medals.
Carol was appointed a Member of the Order of Australia in the 2014 Australia Day Honours, for significant service to sport as a gold medallist at the London 2012 Paralympic Games, and through fundraising and representational roles with charitable healthcare organisations.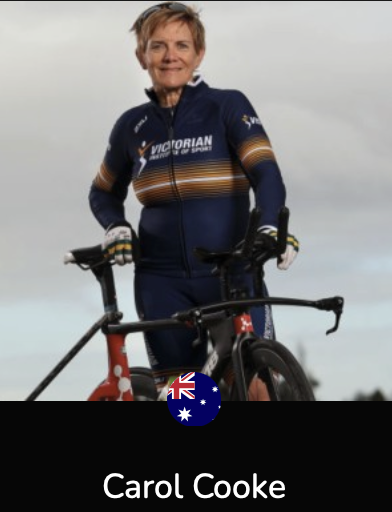 Karen Darke is a British Paralympic Cyclist, Triathlete, Adventurer and Author. Karen is a Paralympic Gold and Silver Medalist and in 2012 competed in her first Paratriathlon World Championships, winning gold. Karen is paralysed from the chest down and has completed many extraordinary explorations such as climbing Mont Blanc and the Matterhorn. Challenging physical and mental barriers,
Karen has achieved the unthinkable. Sit-skiing; hand-cycling; triathlons, marathons and kayaking in some of the most inhospitable places on earth, are just a small example of Karen's incredible achievements. Karen's most physically challenging adventure was a 600-kilometre traverse of the Greenland ice cap which took her a month to complete, and where she had to battle 200-mile-an-hour winds and temperatures below 40 degrees.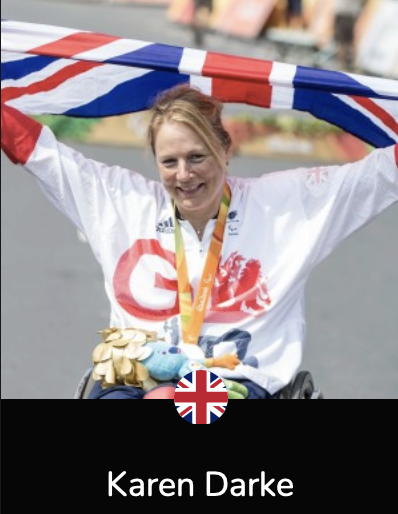 Darren Hicks is an Australian Paralympic Cyclist and 2020 Paralympic Gold and Silver Medalist. In 2014, Darren was involved in a road crash and had his right leg amputated to release him from the wreckage. After giving himself a year of rehabilitation Darren was back on a bike in 2015 and has ridden professionally ever since. Darren has had an incredible career which has included winning both gold and silver medals at the Paralympic Games and being crowned World Champion in addition to this he is a 14-time Australian National Champion. Darren has received numerous awards for his outstanding performances on the bike and for his services to cycling.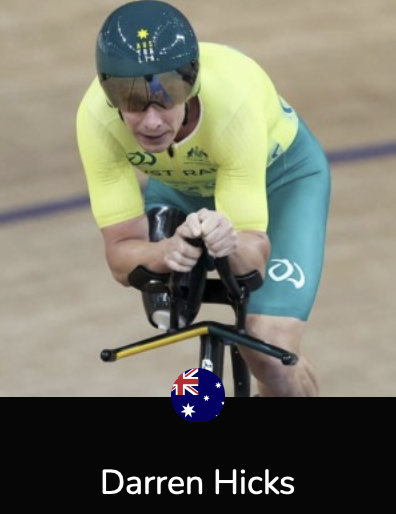 Sam Bramham is an Australian Paralympic Swimmer who has represented Australia internationally since 2004. In 2004, Sam competed in his first Paralympic Games and was one of the youngest athletes for Australia at just 16 years of age. Sam won a gold, silver and bronze medal and smashed the 100m Butterfly World Record. In 2006, Sam made his first big impression at the Berlin World Championships where he won a gold medal and set a new World Record in the process. In his second Paralympic Games appearance, Sam won a gold medal in the 100m butterfly, a gold medal in the 4×100m medley where he set another World Record and a silver medal in the 4×100m.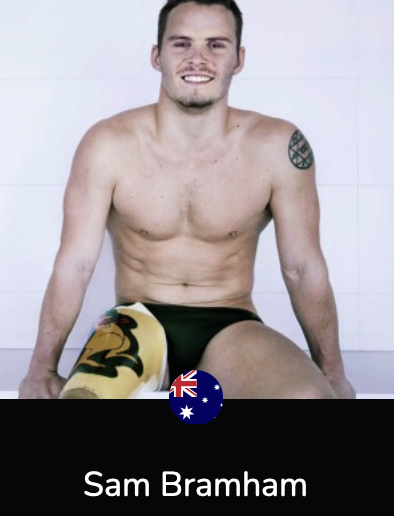 Danielle Brown is a world champion Paralympic Athlete in Archery and International Speaker and Author. Danielle has had a decorated career, becoming a Paralympic Gold Medalist in 2008 and 2012. In 2007, Danielle became World Champion for the first time and in 2013 won her fifth world title. During her entire career, Danielle was world number one.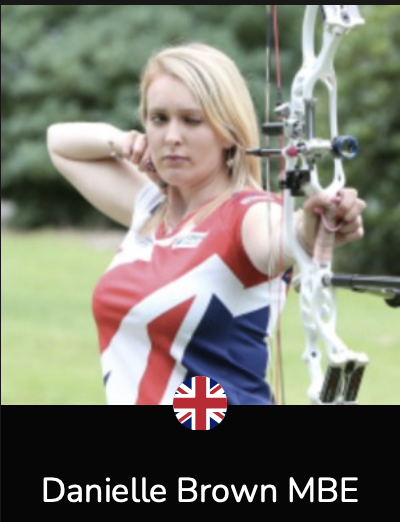 John Stubbs is a highly experienced archer having competed at four Paralympic Games and eleven World Championships. In 2008, John became a gold medallist in his first Paralympic Games. John added to his medal collection by winning silver eight years later at the Rio Paralympics. John is a four-time world champion and was awarded an MBE in 2005.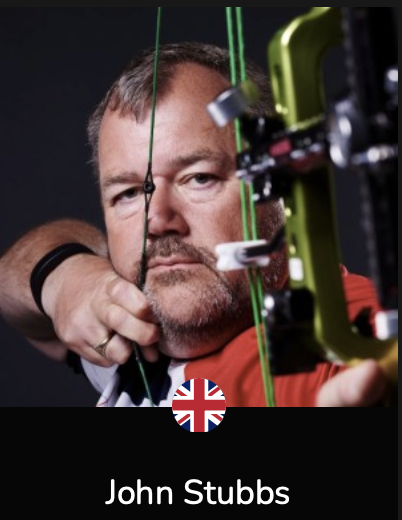 At the London 2012 Paralympic Games, Naomi Riches achieved what some athletes only dream of winning a Gold Medal in front of a home crowd. She now uses her lived experience to inspire, motivate and enable others. Naomi delivers her story – Playground to Podium – putting adversity and seemingly insurmountable challenges, firmly into perspective, with her personal story of achievement, against the odds. Naomi was the only disabled child in a mainstream school of 800. I was not important, most teachers did not cater for my needs, and my peers didn't try to understand. I left school with poor grades and little to no self-confidence. All I wanted to do was to not be defined by my visual impairment. I set out to prove the teachers and the bullies wrong – I won gold at the London 2012 Paralympic Games. When I deliver a speech, I take the audience from the Playground to Podium and beyond. I want my audience to feel inspired, motivated to step up and empowered to realise their full potential.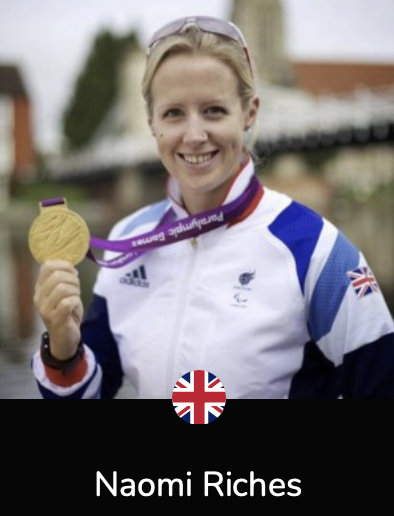 Matt Levy is an Australian swimming champion who has competed in five Paralympics. Matt has endured 56 operations in his life and has defied the odds at every challenge throughout his life. Matt has an incredible 53 major swimming championship medals from national and international meets. Matt has 13 medals from the Paralympics.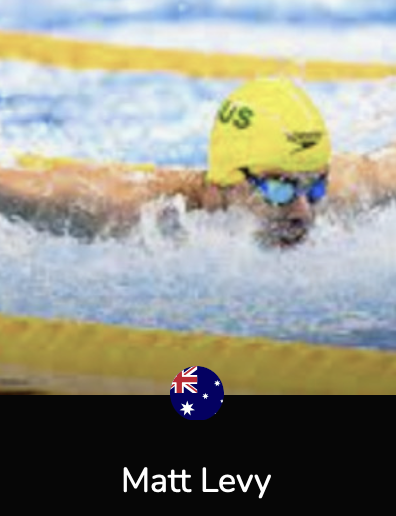 Neil Fachie is a visually impaired 14 x World Champion cyclist. He first competed as a 100m & 200m runner, representing Paralympics GB at the 2008 Games, before switching to cycling. Over the next 3 Games (London, Rio & Tokyo) he won 2 Gold & 2 Silver medals. Neil also holds 2 world records and is a 4-time Commonwealth Games champion with Team Scotland.