Top 10 – Adversity & Resilience Speakers
Resilience is the ability to deal with and overcome adversity in the face of difficult situations. Being resilient does not imply that a person is immune to stress, emotional upheaval, and suffering. The ability to work through emotional pain and suffering is a component of resilience. Overcoming adversity helps your perseverance, determination and will when confronted with stress in future situations. Learning how to Overcome Adversity and be Resilient is vital to your mental health and state of mind.
Experts in dealing with Adversity and Resilience range from those who have directly experienced them to academics who understand the relationship between both and how to deal with adversity and becoming more resilient. The following speakers can help with:
Developing a resilient mindset
Create connections and building strong relationships
Recognising that change is key to releasing and overcoming pain
Understanding one's strength of mind and being able to cope using a framework
---
Stephen McGown was born and raised in South Africa. In 2011, whilst on the trip of a lifetime riding his motor-bike from London to Johannesburg, Stephen was abducted by Al Qaeda in Timbuktu and held hostage in the Saharan Desert for 6 years. Stephen went to extraordinary lengths to survive against all odds. While being held captive in the Sahara, he experienced the loneliness and desperation that people go through when feeling overwhelmed and forgotten, he recognized the need to help others. In 2017, Stephen was released and now tells his story about overcoming the impossible situation. Stephen now talks about his experience and delivers keynotes that are focused on survival and the resilience of the human spirit and mind, something which he believes many people battle with. Stephen has spoken at events all over the world to schools and corporates.
Skills include – Resilience | Mental Strength | Physical Endurance | Media | Public Speaking
Emmah Money is a 2020 Australian of the Year, South Australia Local Hero, Cystic Fibrosis Ambassador and Author. When Emmah was born she was diagnosed with CF and was given up for adoption as Doctors said that her chance of survival was so low. Not long before her 17th birthday, out of the blue Emmah reunited with her biological family by chance who had believed she had passed away. Emmah who is now in her thirties and is a mother of two has gone above and beyond to help and raise money for people with CF. Emmah is a regular speaker across many schools in Australia, motivating and inspiring students about overcoming hurdles in life including bullying and depression and also what it is like to live with an invisible disability.
Skills include – Public Speaking | Leadership | Social Media | Motivation | Resilience | Event Planning and Management | Adversity | Authoring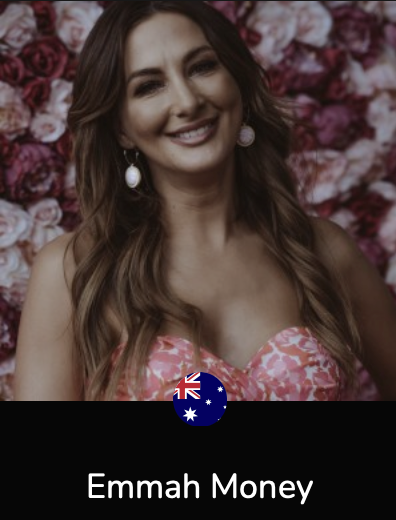 Karen Darke is a British Paralympic Cyclist, Triathlete, Adventurer and Author. Karen is a Paralympic Gold and Silver Medalist and in 2012 competed in her first Paratriathlon World Championships, winning gold. Karen is paralysed from the chest down and has completed many extraordinary explorations such as climbing Mont Blanc and the Matterhorn. Challenging physical and mental barriers,
Karen has achieved the unthinkable. Sit-skiing; hand-cycling; triathlons, marathons and kayaking in some of the most inhospitable places on earth, are just a small example of Karen's incredible achievements. Karen's most physically challenging adventure was a 600-kilometre traverse of the Greenland ice cap which took her a month to complete, and where she had to battle 200-mile-an-hour winds and temperatures below 40 degrees.
Skills include – Courage | Determination | Resilience | Inspirational Speaking | Motivational Speaking | Mental Strength
At the London 2012 Paralympic Games, Naomi Riches achieved what some athletes only dream of winning a Gold Medal in front of a home crowd. She now uses her lived experience to inspire, motivate and enable others. Naomi delivers her story – Playground to Podium – putting adversity and seemingly insurmountable challenges, firmly into perspective, with her personal story of achievement, against the odds. I was one disabled child in a mainstream school of 800. I was not important, most teachers did not cater for my needs, and my peers didn't try to understand. I left school with poor grades and little to no self-confidence. All I wanted to do was to not be defined by my visual impairment. I set out to prove the teachers and the bullies wrong – I won gold at the London 2012 Paralympic Games. When I deliver a speech, I take the audience from the Playground to Podium and beyond. I want my audience to feel inspired, motivated to step up and empowered to realise their full potential.
Skills include – Elite Level Performance | Inspiration | Empowerment | Determination | Resilience | Dealing with Adversity | Overcoming Challenges | Coping with Pressure | Media | Public Speaking
Leigh Skinner is a Para Powerlifting Champion from Australia. Prior to becoming a Para Athlete in 2008, Leigh was an Automotive Mechanic for 27 years before being diagnosed with a tumour in his Spinal Cord which eventually crushed all the nerves in his legs. After many years of studying Personal Development setting goals and trying to refocus on what is next in life, Leigh found Para Sport through Sporting Wheelies in December 2008. From this point he became a Para Powerlifter Athlete and in 2009 he qualified to become a member of the Australian Para Powerlifting team. Since then he has competed all over the world and represented Australia at the 2010, 2014 and 2018 Commonwealth Games.
Skills include – Life Coaching | Public Speaking | Leadership Development | Resilience | Dealing with Adversity | Overcoming Challenges
Heidi Loughlin was diagnosed with the rarest and most aggressive form of breast cancer while 13 weeks pregnant. Heidi was left with the awful decision to make, life-saving treatment or to save her baby. Heidi declined treatment to protect her little girl but was all aware of the little boys she had at home that needed their mum. The unimaginable then happened when her daughter passed away and then Heidi discovered that her cancer could not be cured. Heidi's unwillingness to give up, saw her surpass many milestones deemed unlikely by Doctors and has been able to share her story with strength, positivity and the ever-apparent humour that sometimes leaves audiences with whiplash. Heidi has garnered a worldwide following through her blog Storm in a tit Cup' which has over a million hits due to its shockingly honest account of living with cancer, grieving for her daughter but navigating life by pushing herself.
Skills include – Diversity & Inclusion | Health & Wellbeing | Inspiration | Motivation | Goal Setting | Inspirational | Mindset | Overcoming Adversity | Resilience | Self-Belief | Social Media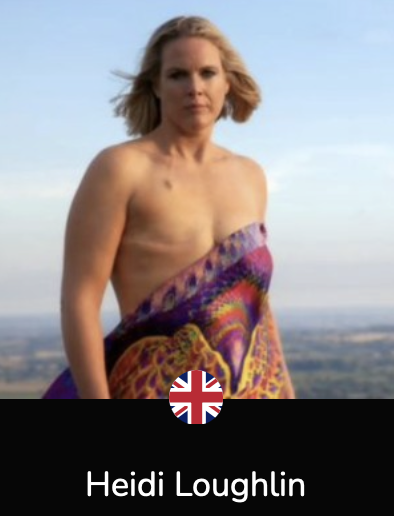 Andy Reid is a former British Army solider who served for 15 years in the Army and is now an acclaimed inspirational speaker. In 2009, Andy has his life changed forever whilst on patrol in Helmand Province, Afghanistan. Having stepped on an explosive device planted by the Taliban he was injured so badly it was miraculous that he survived. The IED plate which Andy stepped on whilst serving for the 3rd Battalion The Yorkshire Regiment resulted in him losing his right arm and both of his legs. His recovery had people in awe as he only spent 2 weeks in hospital before returning. Through his incredible attitude, inner fortitude and will to overcome such adversity, Andy has not stopped being positive. This has seen him sky dive, take part in a 10k run and be awarded with The Sun Newspaper Millie Award for Overcoming Adversity. He has been awarded with an MBE, an ambassador for the ABF Solider Charity and has launched an autobiography called Standing Tall.
Skills include – Leadership | Inspiration | Motivation | Resilience | Overcoming Adversity | Management | Crisis Management | Public Speaking
Sean Swarner is a two-time terminal cancer survivor and was given a prognosis of 14 days to live. No one expected him to achieve what he has in life. With only one lung, Sean is the only person in history to climb Mount Everest, climb the highest mountain on all 7 continents, ski both the North and South Poles, and complete the Hawaiian Ironman. Sean is a multiple world-record holder, author, exec producer and award-winning speaker. Sean is the author of the internationally acclaimed publications – Being Unstoppable and Keep Climbing. Sean is an incredible human being, overcoming the impossible and is now ready to share his inspirational story on LassWho.
Darren Edwards is a record-breaking Disabled Adventurer and Expedition Leader. Following a near-death climbing accident in 2016 that would leave him paralysed from the chest down, he has become the first person with a disability to kayak the length of the UK and to complete the World Marathon Challenge (7 marathons, 7 days, 7 continents).
Skills include – Resilience | Motivation | Teamwork | Public Speaking | Overcoming Adversity | Leadership | Mentoring | Growth Mindset | Diversity & Inclusion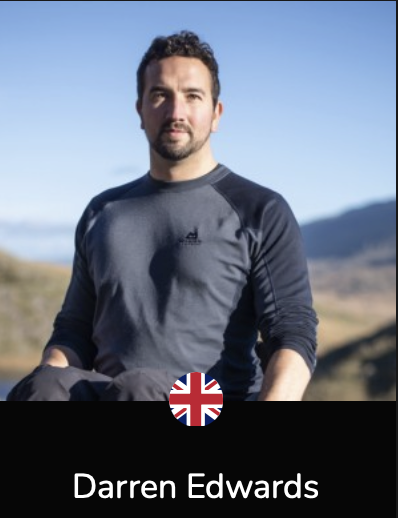 Rhys Thomas is a former Welsh international rugby player who also played for the Dragons and Scarlets. In 2012, Rhys had his career cut short and was forced to retire after suffering a major heart attack in training. This resulted in a quadruple heart bypass, multiple operations and eventually being fitted with a pump that helps keep him alive. As a result of this life changing event, Rhys lost everything including his career and identity. Rhys was not able to deal with his emotions or feelings which ultimately led him to alcoholism and many dark moments. Through seeking support and attending rehab, Rhys was able to overcome these challenges and is now ready to share his story. Rhys was able to refocus and gain perspective on his life, providing direction and purpose enabling him to turn his life around. Those experiences allow him to help others through sharing his story, breaking stigmas, supporting and mentoring to maximise positive outcomes.
Skills include – Adversity | Resilience | Mental Health | Athlete Transition | Identity | Addiction | Recovery | Fear | Perspective | Authentic Self | Being Present | Gratitude