T20 Men's Cricket World Cup – Top 10 Greatest Upsets
The T20 Cricket World Cup has delivered some of the most enthralling entertainment over the years, but it has also been responsible for some of the greatest upsets ever in the sport. Do you remember when England were beaten by the Dutch at Lord's in 2009 or when Zimbabwe beat the mighty Australian side in 2007?
There is no doubt T20 cricket has been instrumental in envigorating cricket interest from fans all around the world, providing a platform for players to showcase their talent and propel them to stardom. Whilst undoubtedly viewer and participation numbers have been positively influenced by the shorter format, one of the other interesting points to take from T20 cricket is how it has created some of the greatest upsets in the history of the sport. Below is a rundown on the T20 Men's Cricket World Cup – Top 10 Greatest Upsets of all time.
At the current tournament, we have already seen some eye catching upsets with Namibia and Zimbabwe beating previous T20 World Cup Winners Sri Lanka and West Indies.
10. Ireland v Bangladesh 2009
Bangladesh were strong favourites for the win having been a Full Member for some 9 years. Ireland was making its debut at the T20 World Cup. Trent Johnston ripped through the Bangladesh lineup to have them 90-6 at one stage. Ireland, batting second, set up the win with the reliable O'Brien brothers (Niall and Kevin) finishing the match off and bringing Ireland one of the great upsets in T20 World Cup history.
9. Bangladesh v West Indies 2007
Two-time World Cup Winners West Indies are next on the list and with the likes of Chris Gayle, Devon Smith, and Marlon Samuels in your side you would expect runs. In their first group match, they amassed an incredible 205 against a strong South African side, however, they somehow lost the match, leaving a must-win against Bangladesh. Having posted 164 from their 20 with Devon Smith making a near run a ball 50 they were favourites to defend. When Bangladesh where 28-2 they needed something special and their captain Mohammad Ashraful needed to deliver, striking at 225.92 he walked off the pitch having scored 61 off 27 deliveries. Aftab Ahmed saw them through with a 49-ball unbeaten 62 after Ashraful's heroics.
8. Hong Kong v Bangladesh 2014
If ever a game summed up 'Cometh the hour, cometh the man' it was Hong Kong vs Bangladesh in 2014 and then name to remember was a 40 year old playing in only his second T20I. On a difficult wicket, Bangladesh mustered up 108 with both of Hong Kong's spinners doing the damage – Nadeem Ahmed (4-21) and Nizakat Khan (3-19). When Hong Kong were 50-5, it looked like a routine victory for the nearly super 10-qualified Bangladesh side, but 40 year old Munir Dar had other ideas. In only his second T20I, Dar hit three fours and a six on his way to 36 from just 27 balls taking Hong Kong to victory with just 2 balls to spare.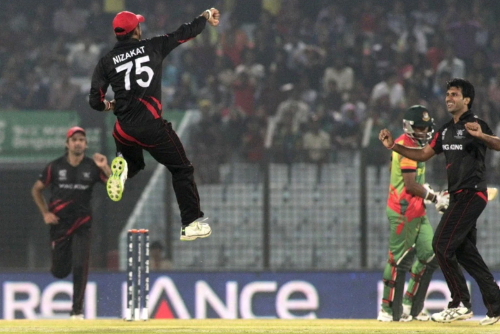 Hong Kong shocking Bangladesh in 2014 (Photo: AP)
7. Scotland v Bangladesh 2021
Not many would have expected Scotland to stand much of a chance against Bangladesh. This appeared the case when Scotland was 53-6 before a man-of-the-match performance from a relatively unknown Chris Greaves (45 from 28 balls) took them to 140-9. Bangladesh took it down to the wire but a spirited 3-24 from Brad Wheal and two wickets from the man of the moment Chris Greaves led Scotland to victory by 6 runs.
6. Oman v Ireland 2016
Ireland makes our list of 10 for the second time but this time for all the wrong reasons. On very few occasions is a maiden over bowled in T20 cricket and especially with the pressure of the World Cup, however, Ajay Lalcheta achieved that in the first over of his spell (4-1-24-0). The match was hung in the balance when Oman fell from 69-0 to 90-5, but Jatinder Singh made sure that Oman didn't lie down along with Amir Ali. With 14 to defend off the last over it was down to the experienced 29-year-old Max Sorensen to defend it, however, when Sorensen bowled a no-ball and then conceded two boundaries, Oman had the game by its throat. With the penultimate ball beating batter and wicketkeeper, it ran away for four, leaving Oman in dreamland.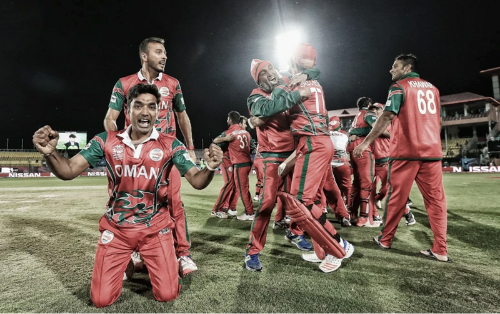 Oman surprised everyone when they defeated Ireland (Photo: ICC)
5. Afghanistan v West Indies 2016
West Indies won the T20 World Cup for the second time in 2016 however would be shocked by the only Associate side they would play – Afghanistan. With only 123 runs being posted by Afghanistan, everyone expected West Indies to cruise to victory and when the flamboyant Johnson Charles hit two maximums in the second over it looked like everything was in order. Amir Hamza came to the party and bowled an incredible 4 overs conceding only 9 runs and taking 1 wicket, there was also an appearance for a certain Rashid Khan and at just 18 took a wicket with his second ball and with Hamza the pair tied the West Indies up, leading Afghanistan to a famous 6 run win.
4. Netherlands v England 2014
With an England side that boasted individuals such as Alex Hales, Moeen Ali, Eoin Morgan and Jos Buttler, not many would have expected the stat of the lowest all-out score for an ICC Full Member against an Associate to be beaten. Needing 6.65 runs an over in a T20 was viewed as a walk in the park for England and at 18 for no loss, England were even bigger favourites before Mudassar Bukhari entered the stage and took two wickets in two balls in his spell of 3 for 12. Logan van Beek didn't have a bad day either, taking 3 wickets for 9 runs in his 2 overs with England being blown away for just 88 runs in 17.4 overs.
3. Namibia v Sri Lanka 2022
At the 2022 T20 World Cup in Australia, we have already seen one of the biggest upsets in World Cup history in the opening game! Before these two met, Sri Lanka won their last 5 matches and got their hands on the Asia Cup. When they had Namibia reeling at 93-6 it looked like business as usual for Sri Lanka, before Jan Frylinck and JJ Smit had other ideas, brilliantly hitting 70 off 37 balls to propel them to 163-7. As we said, a maiden in T20 cricket is a rarity but when Ben Shikongo started with a double wicket maiden, we were about to see something special. Namibia had Sri Lanka by the throat and ran out convincing winners bowling Sri Lanka out for 108 in 19 overs and in the process creating one of the biggest upsets ever in the T20 World Cup.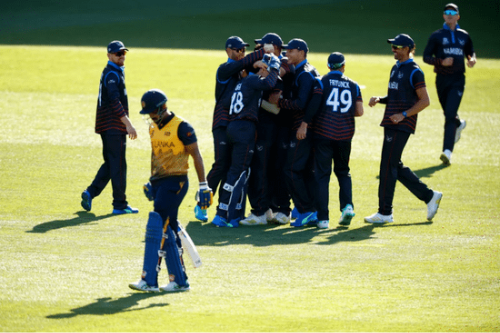 Namibia blow away Sri Lanka in 2022 (Photo: Getty)
2. Netherlands v England 2009
The Dutch make it on to the list for the second time and rightly so considering they are the giant killers of the T20 World Cup era. When you look back at matches this is certainly one that you would think England would win comfortably. Let's set the scene. England was playing a home World Cup, at Lords, beating eventual champions Pakistan and India later in the tournament. The Dutch on the other hand were playing in their first-ever World Cup match. At the halfway stage it looked like England was in the driving seat, with Ravi Bopara and Luke Wright smashing the ball to all areas of England's home ground they finished on 162 for 5. The Netherlands, playing in their first-ever World Cup match and needing to score at over 8 an over against the likes of James Anderson and Stuart Broad they were written off and England were in the ascendancy with the Netherlands at 23 for 2 after 3.3 overs. Even when Tom de Grooth hit a brilliant 49 off 30 balls and Peter Borren supporting him with a 25-ball 30 England still weren't out of the game. Edgar Schiferli needed to get two off the last delivery from Stuart Broad and when Broad missed a run-out chance in his follow through it resulted in an overthrow giving the Dutch the 2 runs they needed and sending the Dutch into wild scenes of celebration. Edgar Schiferli, remember the name?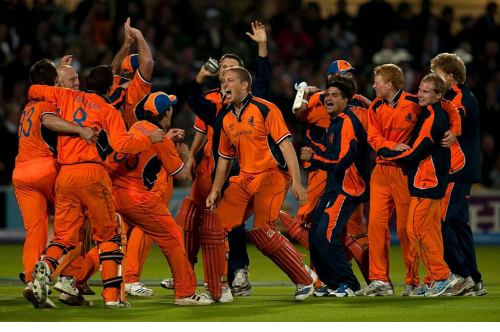 Netherlands create history against England in 2009 (Photo: PA Photos)
1. Zimbabwe v Australia 2007
With Australia having won the 50-over World Cup on four occasions and having not lost a single match in two World Cup tournaments they went into this tournament so far ahead of everyone else. However, Australia found out that this is a different format of cricket and nothing can be taken for granted. When Chigumbura got the wickets of the hard-hitting Matthew Hayden and the sublimely talented Adam Gilchrist within his first 8 balls, Zimbabwe felt like they were onto something special! With a total of 138 set by the Australians, Vusi Sibanda took the game to them and scored a quick-fire 23 off 15 balls, Brendan Taylor was the mainstay of the Zimbabwe innings with an unbeaten 45 ball 60 and when Taylor hit Nathan Bracken for 12 off the last over it sent the Zimbabwe team into pandemonium.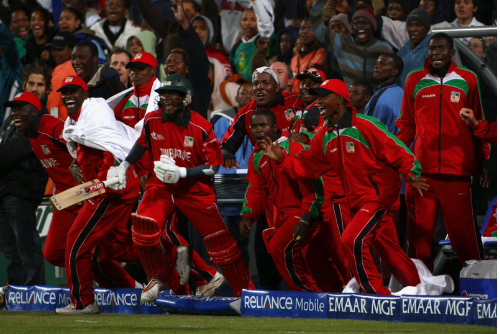 Zimbabwe stun the star-studded Australians in 2007 (Photo: ICC)