Charlotte Edwards – Has there been a more Inspirational Leader?
About Charlotte
Charlotte Edwards is a former international cricketer who captained England and played in various domestic competitions around the world. Charlotte is regarded as one of the most decorated female cricketers in the history of the cricket having led England to three Ashes series wins and two World Cups in her career, not to mentioned the numbers batting and appearance records she created. Charlotte was awarded an MBE and CBE for her services to cricket and holds senior roles within the Marylebone Cricket Club and Professional Cricketers Association.
Highlights
England International Cricket | Captain
MBE (2009) | CBE (2014)
Ashes (2008, 2013, 2014)
Wisden Cricketer of the Year (2014)
ECB Cricketer of the Year (2013/14 & 2014/15)
ODI world record with 142 matches (2010)
T20I – First female or male to score 2,500 runs
International Cricket Coach
Inspirational Career
Where do you begin with Charlotte Edwards?
Do you start with her batting records, World Cup and Ashes victories and trailblazing legacy? Do you look at her coaching stats, leading the Southern Vipers to back-to-back victories in the Rachael Heyhoe Flint trophy? Perhaps her off-field accolades including an MBE, a CBE, being named Wisden cricketer of the year and even having a regional T20 tournament named after her?
As the world of women's cricket has grown at a staggering state, Charlotte has been ever-present and could be regarded as one of the most influential female cricketers the game has ever produced. But it hasn't been without its hardships, and she has been starkly open about the adversities she has faced and what it has taken to overcome these.
Lottie's England debut in 1996 set the tone for a record-breaking career. At the time, she was the youngest ever player to pull on an England shirt, aged just 16. She was only usurped by Holly Colvin, who earned her first cap at 15 in the first Ashes Test in 2005. Despite her youth, Lottie made an impact from the off. In 1997 she hit a staggering 12 centuries including a rapid 118 ball century against a touring South African side. As if this wasn't enough, she rounded off her childhood years with a then-record 173 the day before she turned 18. Not bad for someone not even old enough to vote!
At this time, you could have been forgiven for thinking everything she touched turned to gold, but even Midas had problems with his golden touch. While 1999 saw her score her first Test match century in a game against India, it was a tough time that followed. Expectations had rocketed and eyebrows began to raise when she didn't score the free-flowing abundance of runs fans and pundits had begun to expect. To add to this, a cruciate ligament injury sustained while playing hockey in 2000 meant she had to be side-lined for most of the 2001 season. It was a difficult and frustrating time for her and for her adoring fans. However, her determination and gutsy attitude saw her storm back to form and back to business.
It was in 2005 that she stepped up from vice-captain to lead England's women when Clare Connor was out due to injury. It was here that Lottie proved herself as the natural successor and, in 2006, she took over the reins full time upon Connor's retirement. 2005 could be known as one of the greatest years in England women's history and perhaps one that sticks in many memories today. The series consisted of two Test matches (won 1-0 by England), a five-match ODI series (won 3-2 by Australia) and a T20 game (won by England). This was England's first Women's Ashes victory since 1963 and was documented alongside the historic win for the men. We've all seen the pictures of the two sides celebrating together at 10 Downing Street, although the women's behaviour on that day was perhaps slightly less headline grabbing than that of their male counterparts!
The following years were not the golden ones that fans might have hoped for and saw Edwards' captaincy get off to a turbulent start. Her side came third in a Quadrangular series in Chennai in 2007 as well as a home loss to New Zealand before the turnaround really began. This turnaround was proof of the mental determination of Edwards at the helm and the beginning of the real resurgence of England's women.
Somewhat against the odds, England retained the Ashes in Australia in 2007/08 and backed this up with an away victory over New Zealand and a 4-0 thumping of India at home. Edwards then proved herself as captain fantastic when she led her side to the World Cup title in Australia in 2009. During that tournament she scored a half century and took a career-best 4-37 in their victory over New Zealand in the Super Six round. Her side only dropped one game on their way to the trophy and, in the same year, secured the inaugural World T20 title at Lord's. Her performance in that T20 tournament saw her score 139 runs, the third highest in the tournament, and also take four wickets at 14.5.
To mark her successes that year she was awarded an MBE for her services to cricket while also taking on roles with committees at the MCC and ICC. Continuing to add her name to honours boards, the legend then broke the world record for ODI appearances when she walked out for her 142nd game on 17 November 2010. To mark the occasion, she took a career best 4-30 and was praised by Claire Connor as "a credit to women's cricket globally, a super role model for girls who aspire to play for their country."
She continued to make her mark and led England to back-to-back Ashes triumphs in 2013. Her CV really was growing at an astonishing rate and in 2014 she was named as one of the five Wisden Cricketers of the Year – only the second woman to do so after Claire Taylor in 2009. Edwards also became a holder of one of the first ECB central contracts for women players.
The problem at this point is that the higher you rise, the further you can fall. This was learned the hard way. In 2015, her England side conceded the Ashes before crashing out to Australia in the semi-final of the World T20 and Edwards' glittering international career came to an abrupt end. The following year she made it official and told the world of her retirement from International Cricket. It was the end of a career that spanned 20 years, included 23 Test Match caps, 191 ODI Caps and 95 T20I Caps. She finished with a staggering 5,922 ODI runs and 2,605 T20 runs which, at the time, was the highest of any man or woman in the world. She continued playing on the domestic circuit, captaining the Southern Vipers in the Women's Super League as well as turning out for Middlesex and Hampshire and venturing to Australia as part of the Perth Scorchers then the Adelaide Strikers.
When she hung up her spikes in 2017, there were already multiple cricket doors open for Lottie to remain in the sport. She had been playing for two decades and was ready to take on new endeavours and pass on her knowledge. Her last hurrah on the pitch involved hitting 20 off eight balls in a losing campaign during the Vipers' loss to Surrey Storm in the final of the 2017 Women's Super League.
At the time she said: "I don't want to walk away from the game altogether. From this format, my time is done. I want to pursue other things: coaching, media work and it just felt right this season. I kind of knew at the start. It was made certain in the middle. My body has given up on me now."
Off with the batting helmet and on with the microphone, coaching hat, and administrative glasses. She spent a short while working with Sky Sports during 2017 and was part of the team calling the historic 2017 World Cup win by England's women. While her expert insight is hugely welcome on commentary, she has since focused her effort primarily on a career that involves passing on her knowledge to young players.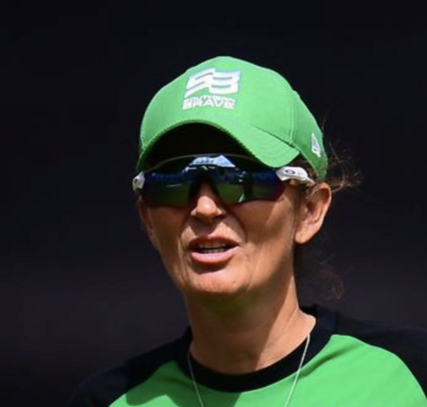 Charlotte Edwards coaching the Southern Brave in The Hundred
Having already dabbled in the world off the pitch as Director of Cricket at Hampshire and coaching in the USA and as assistant coach for the Adelaide Strikers, it was no surprise that Lottie's next adventures would be in coaching. In 2020, when the world was in turmoil during a pandemic and women's cricket was suffering, the ECB announced the new Rachael Heyhoe Flint trophy – a 50-over domestic competition between eight teams. Lottie was appointed as head coach at the Hampshire-based Southern Vipers and led them to the title that year. This was then backed up when they successfully defended their crown in 2021. In that same title-defending year, she was at the helm of the Southern Brave women's team in the inaugural version of The Hundred and came agonisingly close to yet another piece of silverware. On that occasion, her side lost out in the final, but it was evident that Lottie had something special.
In an even more glittering moment for Lottie, it was also revealed that the new women's T20 domestic tournament would be named in her honour. Sadly for Lottie, the fairy tale didn't quite come full circle and her side lost in the semi-final to the Northern Diamonds.
The winter of 2021/22 saw Edwards back in the England fold as she took on a coaching role with the England women's A side for their tour to Australia alongside the women's Ashes. She has not been shy to reveal her desires to one day coach the national team. But for now, she is more than happy with her winning role at Southern Vipers and to get the Southern Brave a step further and lift the trophy this summer.She is a true superstar of the women's game. A trailblazer, an inspiration and a role model for all and the perfect reflection of everything the women's game stands for. Lottie "Chief" Edwards defines women's cricket in England and you don't need to be a cricket badger to realise it.